I'm honored beyond words to be addressing you as the ninth President of our Fresno State.
One of our short-term goals is to repopulate safely. After we have endured so much as a community during COVID-19, fall 2021 represents the possibility of transitioning back to normal. This golden door presents a unique opportunity to fine-tune our mission of empowering every student for success. As we welcome our new entering class, let us be mindful that our fall 2020 class did not have the chance to experience a dynamic first year of college on campus. As such, I'm confident that our Bulldog family will come together to welcome our new and continuing students with renewed energy, grace and care.
---
Academic Affairs
Summer classes are underway through the division of Continuing and Global Education, and this year more than 700 students will receive financial assistance through the Provost Graduation Initiative. This program covers the cost of summer school to keep students on track for graduation and to support low-income students. The initiative, a recipient of the 2016 award for "Innovation in Higher Education" by the Western Academic Leadership Forum, is now in its sixth year.
---
Athletics
Bulldog Football season is right around the corner. This year's home schedule features six exciting games, that you won't want to miss. All faculty and staff are able to purchase season tickets for only $79 via our Bulldog Pass. To purchase your Bulldog Pass, click here.
---
Student Affairs and Enrollment Management
Few things define student success like watching our students graduate. We had the pleasure and honor of witnessing this May 14 through 16. The atmosphere at Bulldog Stadium was electric and filled with joy. It was wonderful seeing the pride that was on the faces of our graduates and their families. This commencement was extra special given the challenges everyone has faced this past year.
---
Technology Services
After 14 months of virtual meetings and events, the Technology Services Events Team decided to do something different. The team decided to host a drive-thru event where team members could come to campus for some (masked) face time with members of the Leadership and Events Teams. Attendees were treated with goodie bags that included a fun crossword puzzle contest, a coffee mug, and homemade cookie dough made by our own VP and CIO Orlando Leon.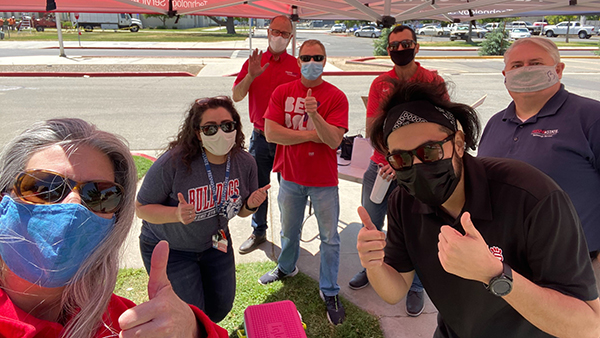 ---
University Advancement
University Advancement moved quickly and nimbly to announce our new president. University Communications immediately got the word out via email, social media and a news conference for President Jiménez-Sandoval. Brand Strategy and Marketing prepared video messages from him, a full-page ad in The Fresno Bee and celebratory TV ads. Development created a call list and profile reports of the top donors, prospects and volunteers for the President to connect with in his first month. Advancement Services and Development will create gatherings for the president to interact with community audiences, following COVID-19 guidelines.