Dr. John Donaldson, passed away at the age of 95 on May 23, after a short illness. He was a polymath — a knowledgeable person who made fundamental contributions to diverse fields of study, including physics, government, music and athletics. Dr. Donaldson was known for his dapper bow ties, towering height, calm demeanor and friendly attitude. He was a prominent figure in the Central Valley.
As an undergraduate at Rice University, he won a national title for discus throwing. After earning his doctorate at Yale University, Dr. Donaldson worked a few years at the University of Arizona as an associate professor of physics, and then was drafted by the Army in June 1954 for World War II. He spent his service time in the Biological Warfare Laboratory in Maryland. Dr. Donaldson met his wife, Shirley, while attending a square dance. They were married in 1951 and went on to adopt four children — Nancy, Dorothy and twins, Jack and Jane. Dr. Donaldson and his wife loved hiking the Sierra Nevada, going on backpacking trips and on trips around the world.
After leaving the Army, he began his career as a professor at Fresno State. Education was extremely close to his heart and he relished the challenge and taught physics for over 35 years.
Even after Dr. Donaldson retired in 1995, he remained a fixture around the physics department, sharing an office, coming to graduation dinners, and, in general, taking part in the department as a senior statesman. Dr. Donaldson initially shared an office with Professor Karl Runde, who was just starting out his teaching career. Runde mentions many occasions when he and John would discuss teaching upper division and graduate courses. Dr. Donaldson was a scientist through and through. He started the popular science course NSCI 4 "Science and Nonsense: Facts, Fads and Critical Thinking," which trained students to use their science background to critically evaluate claims.
Professor Don Williams, who heads the Physics Outreach program, remembers Dr. Donaldson as his masters of science thesis adviser. Williams wanted to do his thesis on Grand Unified Theories in particle physics. Although this was not Dr. Donaldson's field, Williams said Dr. Donaldson took up the task of mentoring him in learning about these theories with great energy and joy, which led Williams to earn his master's degree in 1989. Williams said Dr. Donaldson's drive to learn new things was enormous.
Longtime colleague and friend Dr. Vanvilai Katkanant was saddened to hear news of Dr. Donaldson's passing. He was a chairman during Katkanant's appointment as an associate professor at Fresno State in 1985. He invited her to stay at his comfortable, warm and loving home instead of staying alone in a hotel during her job interview. The Donaldson's warm, friendly and generous welcome made her decision to come to Fresno State without any hesitation even though she got many offers at the time. Katkanant always treasured their kindness, warmth, and their open-mind endlessly afterward. Katkanant was a pioneer as a female professor among the all male faculty in the department and never felt like she was being treated differently under Dr. Donaldson's leadership.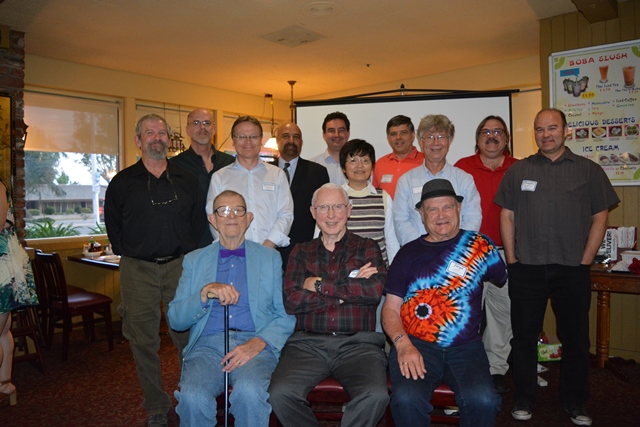 While a professor at Fresno State, Dr. Donaldson entered a successful run for the Fresno County Board of Supervisors. He was elected in 1973 and helped restructure a new era of restrictive zoning and building practices. His goal was to ensure that land-use decisions benefitted everyone in the community, not only businesses or developers. He was known for his integrity and for returning Christmas gifts sent by developers.
During his time in Maryland, his love for music led him to direct a choir at a Methodist church. After moving to Fresno, he joined the College Community Congregation in 1956 now known as the Community United Church of Christ. He directed the choir and graced those who listened to him sing for over 61 years.
Dr. Donaldson's wife passed away in 2006 from Alzheimer's disease. Years later, he was reconnected with Ruth Reynolds, an old friend, whose husband also died from Alzheimer's. They were partners until her death in 2017.
Services for Dr. Donaldson are being determined.