Facilities Management is pleased to provide a progress update for the Central Utility Plant Replacement (CUPR) project, a public-private partnership (P3) project that will modernize and maintain Fresno State's utility infrastructure system. We thank everyone for their patience and support as our campus moves away from fossil fuel use and toward a more sustainable future.
---
LED Lighting Upgrades
Upgrades to LED lighting and sensors in 22 campus buildings will improve lighting quality and user control. These upgrades will contribute towards the overall 30% reduced energy consumption, a requirement of the CUPR project.
Last month, work was completed in Grosse Industrial Technology, McKee Fisk and Speech Arts. Controls are now being programmed in these buildings, enabling lights to turn off automatically after 30 minutes if no movement is detected. Lighting upgrades were previously completed in Engineering East, Conley Art, Family Food Science, Music, Peters Business and South Gym buildings.
Please do your part to save energy by turning lights off manually when you are the last to leave a space. (New light switch plate stickers serve as reminders.)
---
Utility Distribution System
Another critical aspect of the CUPR project involves constructing a new underground system of hot and chilled water distribution pipes that play an essential role in heating and cooling our campus buildings.
Underground work for the installation of hot water and chilled water piping from San Ramon to Keats Avenue was completed recently. Also, piping for University High School hot water and chilled water is now complete, as well as installation of chilled water piping to the Music buildings.
Current projects include the installation of piping connections at San Ramon, Science II, Thomas Administration and Agricultural Mechanics. Chilled water interior piping continues and is anticipated to be finished by the end of February 2023. All interior hot water piping is complete, except to the North Gym and South Gym. In addition, replacement of concrete sidewalks is ongoing in areas where underground piping work is complete.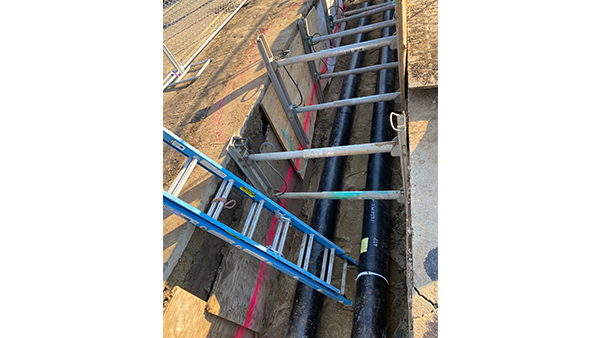 Trenching and newly installed piping follow OSHA's required safety method of sloping and shoring trench walls with supports, to prevent cave-ins and create a safe work environment.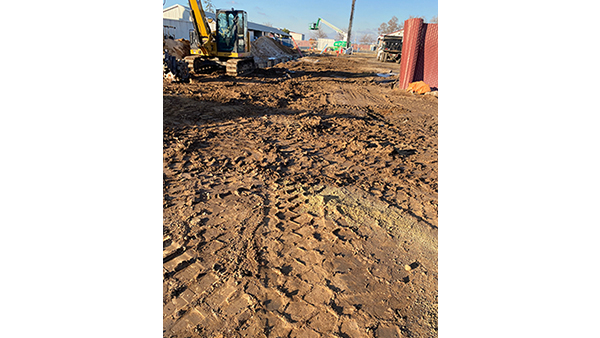 The area north of San Ramon is backfilled after completion of piping installation.
Photovoltaic Panel Installation in P5 and P6
Installation of the CUPR project's new solar photovoltaic panels in parking lots P5 and P6 has started. In addition to providing shade for student parking stalls, these canopies will generate 4.5 MW of electricity during peak hours, which will help to reduce the campus' reliance on the electrical grid.
Work started in early January and will continue in phases throughout the 2023 calendar year. ADA parking will be temporarily relocated to P5. A portion of P5 will be fenced off throughout this work, to allow for equipment storage. Students who usually park in lots P5 or P6 may park in the Save Mart Center North Lot. Watch for further updates next month.