We hope you enjoy this series where we meet and get to know employees from across campus. Would you like to be featured? Contact us at campusnews@csufresno.edu.
Name: Gil Harootunian
Title: Executive Director, University Initiatives
Department: Office of the Provost
Academic Degrees: Ph.D., English literature
How long you have worked at Fresno State? Over 10 years
What is your most notable accomplishment in your field, and why was it important? My international work changed me as a person and as a professional. I was a Fulbright senior lecturer and researcher to Armenia and, later, the U.S. project director of a U.S. Bureau of Educational and Cultural Affairs three-year educational exchange grant with an Armenian university. The tremendous growth I experienced during those years of international work has allowed me to accomplish a lot more here at Fresno State over the past decade.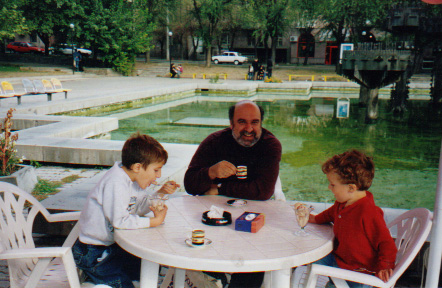 With her husband, Sartkisi Harootunian, drinking demitasse, and sons Dante and Dylan eating vanilla ice cream in Yerevan's Grand Park
What are you most passionate about in your field and why? I am passionate about making a difference for the university and for the San Joaquin Valley. I am inspired non-stop by how my work helps to land multi-million dollar awards that support diversity and democracy. Excellent leadership teams are the "secret sauce" to landing these awards.
Guided by former Provost Lynette Zelezny and former Jordan College of Agricultural Sciences and Technology Dean Sandra Witte, I lead the work to develop from scratch a proposal to build out online graduate programs and online courses to be able to deliver services throughout the Central Valley. That $2.87 million proposal — The Blue Ribbon Online Graduate Campus — was funded and became the "Graduate Net" program. That was the first Department of Education, Title VB award landed for Fresno State.
Supported in all ways by Interim Provost Xuanning Fu, I worked with Dr. Yoshiko Takahashi to draft the first successful proposal to the Department of Education's Asian-American, Native American Pacific Islander-Serving Institution program. That $1.25 million award is dedicated to increasing the diversity of criminology majors.
In concert with the deans and some frighteningly bright faculty like professors Alejandro Calderon-Urrea and Steve Rocca, I penned a second Department of Education Title VB proposal, "Finish in Five." That $2 million award supports nine departments in the College of Science and Mathematics, Jordan College and Lyles College of Engineering to implement 4 + 1 Dual Degree pathways that shorten a student's time to complete a master's degree and so reduce student debt.
Collaborating with my colleagues in the Kremen School of Education and Human Development and at Fresno City College and Reedley City College, we worked up a $3.75 million proposal to the Department of Education Title VA for "Ensenãmos en el Central Valle," a teacher education program now thriving in the Kremen School.
Inspired by Dean Christopher Meyer's commitment to democratize access to academic success for all students, I joined forces with the tri-college team yet again to draft another Department of Education Title VA proposal for $2.9 million to implement "STEAM: Enriched Pathways." The award funds developing Course-Based Research Experiences to democratize access to research experiences for all undergraduates enrolled in a course. The award also funds developing an increased number of Work-Based Learning Opportunities, such as internships, job shadowing, and so on, to build the professional identity of students in the College of Science and Mathematics, Jordan College and Lyles College.
One of the most pleasing experiences for me, as a woman, was being instrumental in helping engineering female faculty land the university's first National Science Foundation "ADVANCE" award to increase the representation of women in the CSU engineering professoriate. I feel privileged to have worked with gifted and passionate colleagues, Dr. Kimberly Stillmaker, Dr. Lalita Oka and Dr. Arezoo Sadrinezhad.
What is a memorable moment you had at your job? Fresno State is bursting with talent and expertise, and many just need the right kind of encouragement and help to work wonders. Some of the most memorable work I have done was with the mathematics department. Mathematics is critical to succeed in all science and engineering careers. The math faculty have real passion for both mathematics and the teaching of mathematics. I worked with professors Oscar Vega, Carmen Caprau, Tamas Forgacs and Jenna Tague on their $1 million proposal to the National Science Foundation to provide scholarships and mentoring to help minority students to realize their dream of becoming mathematicians. I worked with chair Rajee Amarasinghe, Caprau and Tague on their "GOT Match" (Growing Outstanding Teachers of Math) proposal. Finally, I worked with Amarasinghe and professor Earl Balderama on a successful "On Ramp to STEM" proposal funded by the California Learning Lab. The combined impact of these awards is proving transformative for the math department. This is inspiring.
What is a memorable moment you had in class, and what does that reveal about your teaching style? One of the most memorable moments ties to being able to make a difference. I remember the first time I identified a student has a learning disability and made sure he received the help he needed. He was in college and had struggled for years. His face glowed after talking to the advisors, and I could tell he was going to shift from surviving to thriving.
What do you like to do for fun in your spare time? Garden.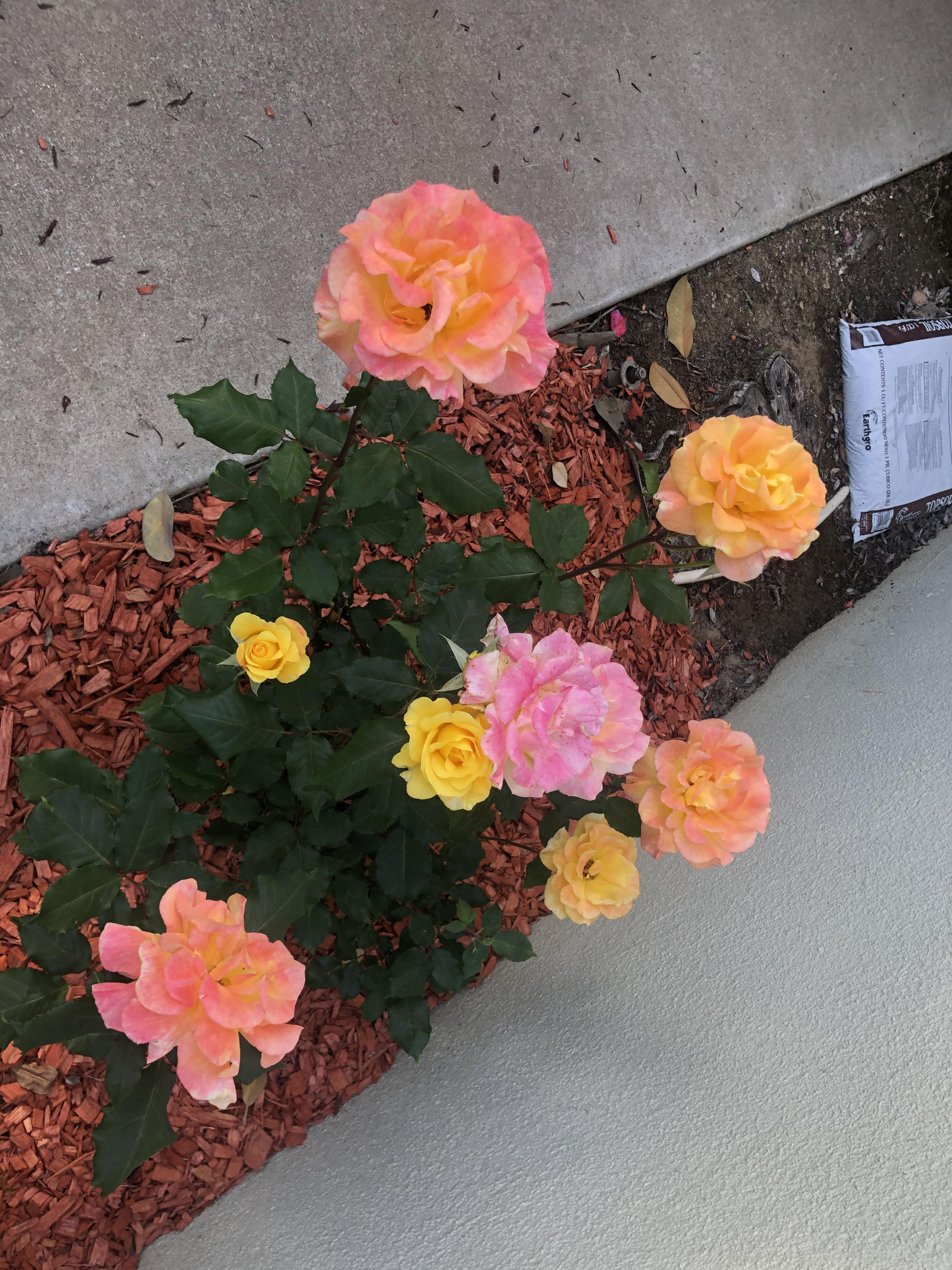 Her favorite roses in her garden.
What is something interesting about you that most people don't know? I launched my own small, independent press — Tadem Press — dedicated to publishing primary sources on the Armenian Genocide. Too often high-value work of this kind is not attractive to major publishing houses.
Is there something else you would like to share that was not asked? My favorite poet is Emily Dickinson, and of her poems, my favorite is, "Hope is the thing with feathers, that perches in the soul, and sings the tune without the words and never stop at all."