Facilities Management is pleased to provide a progress update for the Central Utility Plant Replacement (CUPR) project, a public-private partnership (P3) project that will modernize and maintain Fresno State's utility infrastructure system. We recognize how invasive this project is for our campus community and we appreciate the extra patience and support as we transform our campus towards a more sustainable future.
---
Photovoltaic Panel Installation in P5 and P6
In addition to providing shade for approximately 1,500 student parking stalls, the new solar photovoltaic panels that serve as canopies will generate approximately 4.5 MW of electricity during peak hours, which will help to reduce the campus' reliance on the electrical grid.
Foundations for the carports have been dug and rebar added for reinforcement. Learn more about the phasing of this installation and energy generation.
ADA parking has been temporarily relocated to P5 for the duration of this work. Requests for ADA (wheelchair) transportation should be made through the SCOUT program. Students who usually park in lots P5 or P6 may park in the Save Mart Center North Lot.
Additionally, the Office of Parking and Transportation has procured two 7-passenger vans that provide a limited shuttle service to and from the Save Mart Center Parking (Lot 1) to Campus Drive Circle near the North Gym. These shuttles will operate 8 a.m. to 4 p.m., Monday through Friday, with service approximately every 20 minutes.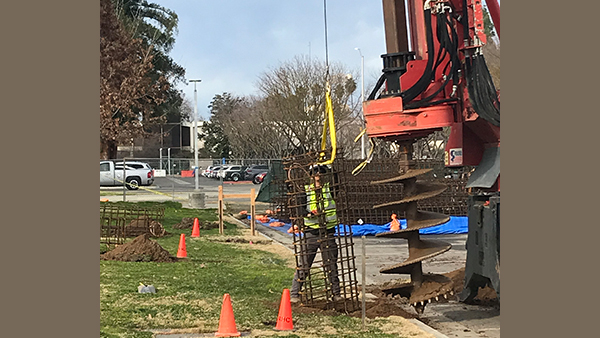 Excavation process for the carport foundations, as part of the installation of photovoltaic panels in Lots P5 and P6.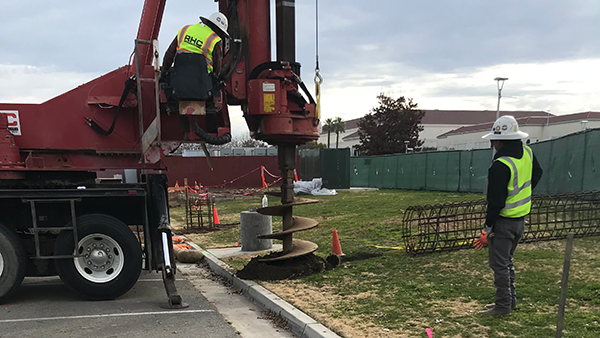 Machinery is used to dig the holes.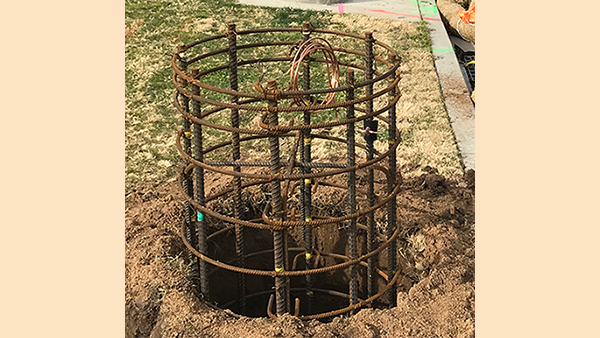 Rebar is added for increased strength before concrete is poured.
---
Energy Management System Upgrades
The Energy Management System (EMS) is being upgraded in 10 buildings, which will provide better monitoring and occupant comfort while also reducing energy consumption.
EMS installations are now complete in the Music Building (Addition) and final inspections are occurring in Engineering East.
---
Utility Distribution System
Building piping for chilled water lines is nearing completion in Music, Agricultural Sciences and University High School, marking completion of new chilled-water piping to 27 campus buildings.
On the south side of Maple Mall, the installation of hot water and chilled water piping is nearly complete and will be immediately followed by landscape restoration.
Underground piping to Science II, Agricultural Operations and the western corridor areas of campus is ongoing.
Work has begun on the main piping loop (connecting campus buildings to the central utility plant) heading west down Keats Avenue.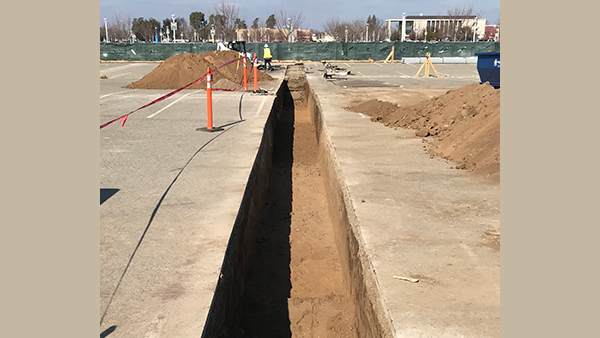 This trench will house the direct current line that connects the photovoltaic panels on the carports to equipment below the parking lot.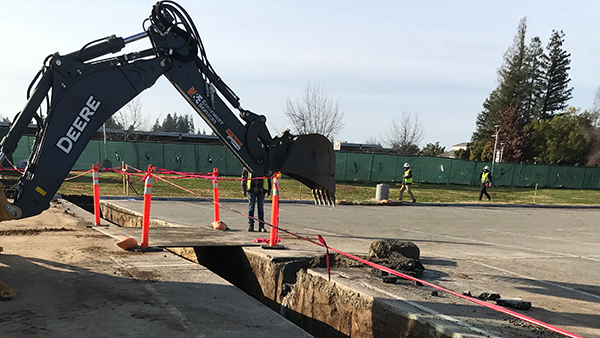 Equipment transforms the power into alternating current that is then connected to the grid and used throughout campus.