Always an innovative team, Tech Services' annual potluck went virtual this year complete with games and activities to provide healthy competition and camaraderie. Read more to learn about what the division does, how it switched gears during the early pandemic and tips to help you in the virtual world.
The Technology Services Division is a well-trained team of professionals dedicated to providing reliable and innovative technology, as well as quality services to support and enhance the daily operations of the entire campus community.
The division, which has 96 employees, provides academic and administrative information services, core services, computing support and a broad range of technology-based resources to students, faculty and staff at Fresno State.
Additionally, Technology Services is dedicated to supporting students and providing them opportunities for engagement with programs that promote interdisciplinary interaction, creativity, exploration of emerging technologies, and business model development skills — all to help support student success.
The division's goal is to "advance innovation, teaching, learning, accessibility, productivity and IT security in all we do."
This past spring, Technology Services shifted toward providing services for remote teaching and remote working environments. Employees have shifted to almost 100% remote work, which has provided insight into whether the public sector can thrive in a telecommuting environment as the private sector currently does.
Read more about Technology Services in this Q&A with several members of the team.
What are you doing differently this summer to prepare for the fall semester?
Remote work (more than 1,600 TeamViewer/Zoom support sessions provided by campus liaisons to faculty and staff since March 23).
Rotating on-campus schedules.
A lot more meetings with campus colleagues to prepare for the new normal of the mostly-virtual fall semester.
A lot of computing equipment procurement.
In the midst of budget and organizational planning.
A LOT of Zoom training and support.
Outfitting select classrooms with lecture capture technology.
Providing consulting services for immersive learning, teaching and student experience environments.
Tech Services staff members are regularly recognized in the University's High Five Employee Recognition Program. What are you most proud of when it comes to the work that your team has done over the last several months?
Team members digging in and doing what needs to be done. Technology Services team members compassionately serving the campus and the community. Team members see a crisis situation as an opportunity to go above and beyond in their work and service to the campus community. Technology Services has shown itself to be a nimble division in responding to an unprecedented crisis, yet maintaining a productive and respectful work environment.
What doesn't the campus community know about Tech Services?
Technology Services became a fully functioning division upon the arrival of Fresno State's first-ever Chief Information Officer Orlando Leon, in the summer of 2015. Since that time, Leon's role has expanded to include the title "vice president of information technology" in addition to his role as chief information officer. His expanded role highlights the importance of the Technology Services organization as a whole in carrying out the mission and vision of Fresno State.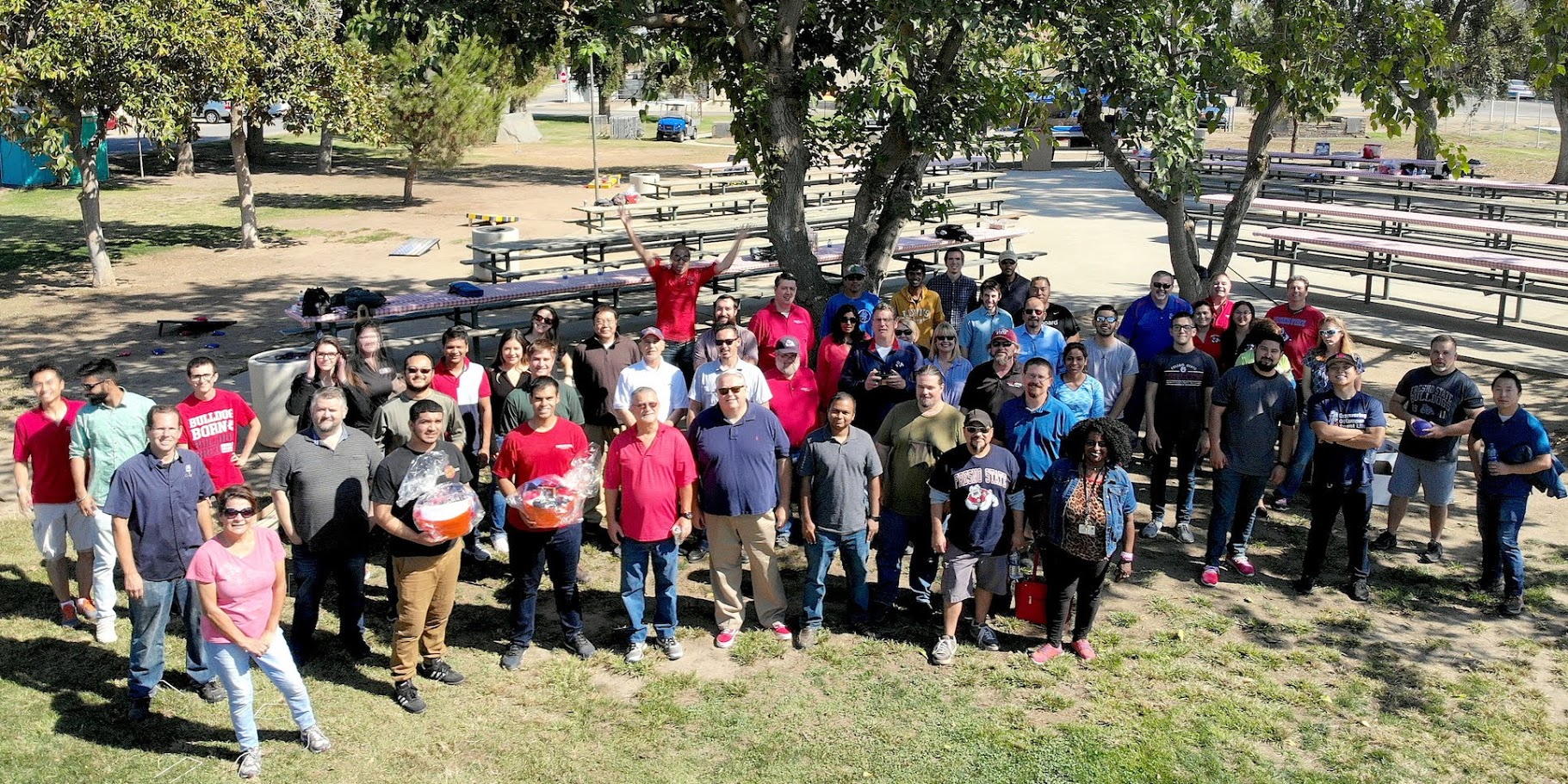 Our staff loves a good picnic and is well known for its delicious potluck foods and creative games featured at the annual Technology Services picnic event. Always an innovative group, this year's picnic was held in the virtual world (Zoom) complete with activities and games to provide healthy competition. We have a dedicated team of event planners known as the "E Team" who strive to ensure we have plenty of opportunities to build camaraderie within our organization.
Fun hobbies? Our team loves to compete with each other and has hosted several of our division celebrations at the Bulldog Bowl. We are a diverse group of individuals possessing a wide range of personal skills and hobbies. In our midst, we have master gardeners, mechanics, Star Wars buffs, e-Sports coaches, cooks, World War II specialists, dancers, farmers, woodworkers, engineers and innovators, just to name a few. Of course, every Technology Services staff member is equipped with a multitude of technology skills and abilities.
Technology Services gives back to the community. In the summer of 2019, the division hosted a Technology Camp for the Fresno Housing Authority's summer program. Our staff and student assistants provided a day camp for students ranging from sixth grade to high school, engaging them in a variety of technology-related activities designed to introduce them to emerging technology and potential career opportunities in technology.
Over the past three months, Technology Services evaluated and selected (in collaboration with the Center for Faculty Excellence) a new lecture capture service (Panopto) which will allow the possible recordings of lectures on a large scale (if instructors choose to do so), offering unlimited cloud storage and state-of-the-art features, such as video search, embedded quizzing and comments.
Workshops and Training. Technology Services gives back to the Fresno State campus community by providing special workshops and training above and beyond our typical resources. As an example:
Amazon Working Backwards Workshop - A variety of faculty, staff and students participated in a two-day workshop facilitated by experts from Cal Poly. All were welcome to this well-attended event.
Design Thinking Workshops - Technology Services hosted a two-day workshop focusing on Design Thinking principles as outlined by the Stanford D-School. Faculty and staff were challenged to pinpoint the right problem to solve and consider creative solutions to apply to very real challenges in their areas.
How do you work with student assistants?
Students assistants are essential to our work and helped tremendously during the COVID-19 crisis to repair, prepare and distribute devices to staff and faculty who were asked to work remotely. Currently, our staff includes 41 student assistants and we couldn't achieve our goals without them. Technology Services offers real-world learning experiences to our students in a variety of ways:
Student internships and events

Our Project Management Office offers students the opportunity to train under certified professionals to build their project management skills in preparation for their future careers.
Our Innovation team offers internships for students as well, providing opportunities for engagement with programs that
promote interdisciplinary interaction, creativity, exploration of emerging technologies and business model development
skills. See more information about our Project Ignite
Program here.
Hackathon - Each year a group of students from across
campus work with Orlando Leon, VP for Information Technology
and CIO, to organize and execute an annual Hackathon event.
What services do you offer that you wish more people knew about?
Technology Innovation
Design Thinking
Student internships - We offer student internships within our Project Management Office, Innovation Team and several other areas.
Business Process Improvement and Innovation
Change Management
Technology Services Knowledge Base - We understand that many individuals may not actually need our one-on-one support and prefer finding solutions on their own. Our Knowledge Base provides a plethora of training instructions and information designed to assist with a variety of topics such as campus Wifi, email and DUO, as well as helpful tools for working remotely. Colleagues may utilize the search feature (upper right hand corner) to find a desired topic.
What top productivity tools do you recommend?
Google Collaboration Suite
Office365
Zoom video conference
Trello
Follow-up Then
Docusign
Most employees are working on their computers more/longer than they were in the past. For your department that has been the norm. What suggestions do you share with your staff that would benefit others on campus?
Take breaks
Prioritize health (ergonomics, especially the potential for carpal tunnel syndrome/tendonitis, which can be long-term challenges)
Connect often with friends/community/coworkers
Visit the official Technology Services webpage for tips on successfully working from a remote location.
When do you suggest people submit a work order instead of calling the Service Desk?
We suggest trying the self-service portal (i.e. TeamDynamix) as a first attempt to find an answer. Call the help desk if there is an urgent matter at 559.278.5000. File a service desk (TDX) ticket for non-urgent matters.
Technology Services supports a Knowledge Base within our ticketing system that functions as a valuable resource for faculty and staff desiring to learn on their own.
Visit our Service Desk webpage.