When Fresno State professor of physics Frederick A. Ringwald first got interested in science, he was in paleontology. But he switched fields to astronomy when he turned five years old.
From digging in dirt to staying up all night, Ringwald thinks he made the right choice.
"I have made scientific observations with telescopes on every continent except Antarctica, and from space with Hubble Space Telescope and other NASA spacecraft," he said.
At Fresno State since 2000, Ringwald was an undergraduate double major in physics and astronomy at Northwestern University, near Chicago. He earned his Ph.D. in physics from Dartmouth College in New Hampshire in 1993. Before this, he served in the U.S. Navy.
After earning his doctorate, Ringwald held research jobs in England, Tucson (the astronomical capital of the planet, in Arizona) and at Penn State. He taught at the Florida Institute of Technology and at NASA Kennedy Space Center in Florida.
What Ringwald likes most about teaching physics is working with students.
"Fresno State students are likeable," he said. "Often, they're not so wealthy or privileged, and have to work and struggle, and this gives them character. Our physics majors go on to good jobs doing interesting things."
One of Ringwald's students earned her doctorate in the physics of the solar corona (the hot gas escaping from the sun) and is now on the science team of NASA's Parker Solar Probe, the first spacecraft to fly through the solar corona, where the temperature is over 3000 K (4940° F).
Another of his students earned his doctorate in the physics of the ionosphere, the border between the atmosphere and space. This former Fresno State student is on the science team of NASA's MAVEN spacecraft, which is orbiting Mars.
Aside from helping students get their careers going, Ringwald wants to work on science that other scientists read and use. With the help of computers, he takes on the big projects that no one else wants to do because of the amount of work involved.
"Fresno State physics has a vigorous astronomy program," he said. "My students are welcome to participate in hands-on research on exoplanets, cataclysmic variables, flare stars, starburst galaxies, quasars and black holes."
One of the opportunities Fresno State offers physics students is through the observatory station at Sierra Remote Observatories near Shaver Lake. It was one of the eight original observatories built in 2007.
"Sierra Remote now has over 30 telescopes and may be adding 20 more this year," Ringwald said. "These belong to astrophotographers, other universities, professional research observatories, NASA and commercial satellite tracking companies."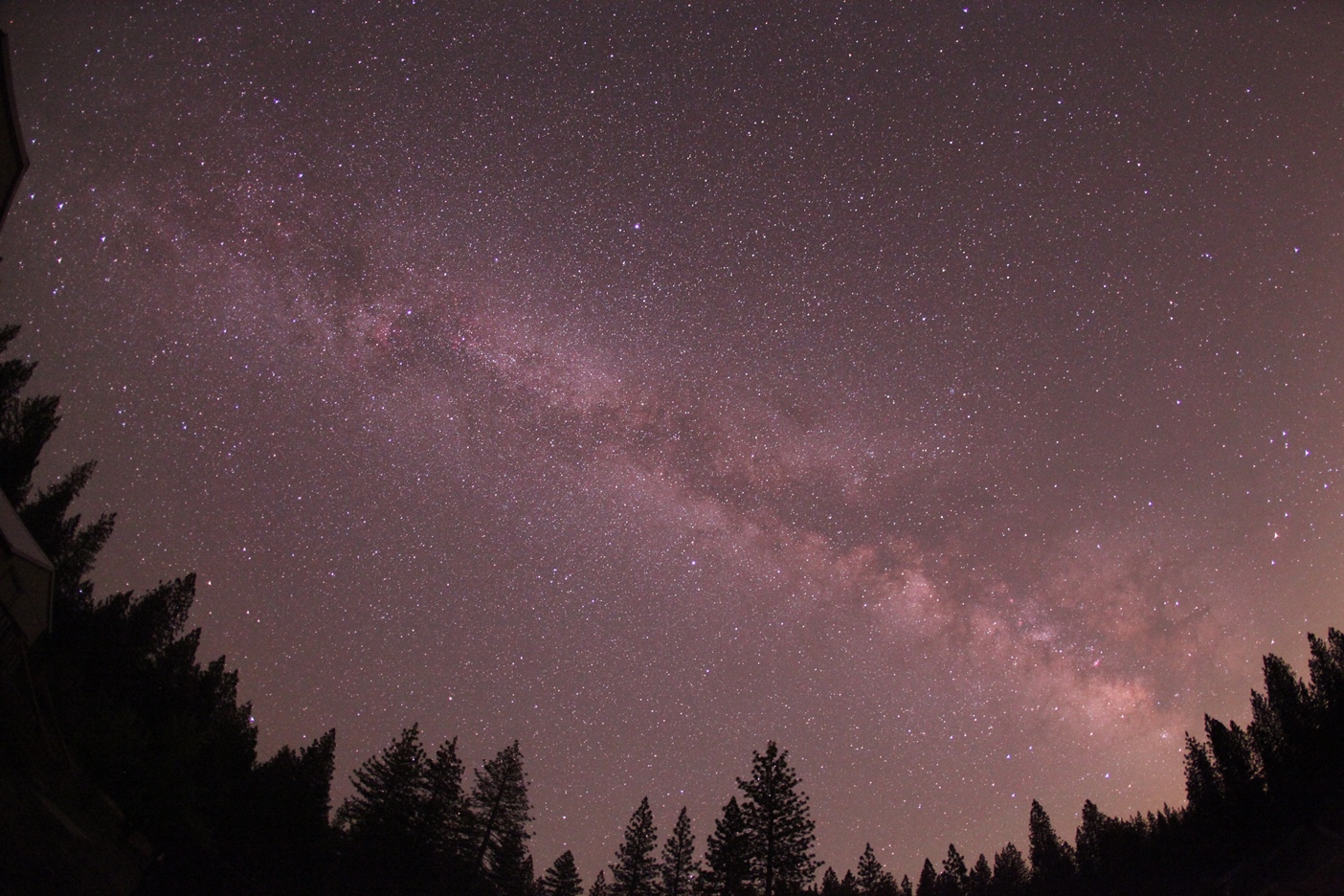 (The Milky Way taken at Fresno State's observatory near Shaver Lake. Photo provided by Dr. Frederick Ringwald.)
The observatories have roll-off roofs, which are simpler than traditional observatory domes. All the telescopes are run mainly by remote control over the internet.
"I still take students up there, to show them how to close the observatory manually in case things go wrong," he said. "Observations from Fresno State's station have been used in seven papers in refereed journals, five with co-authors who were Fresno State students, as well as four master of science theses from the Department of Physics."
Fresno State installed a new meteor camera early this year. It covers the entire sky, to observe meteors falling through Earth's atmosphere.
"Cameras like this can tell where in the solar system these meteors come from, and in exceptional cases, where the meteorites fall," he said.
Fresno State's station is hosting the meteor camera in collaboration with Dr. Peter Jenniskens of the SETI Institute, in Mountain View, California. Sponsored by NASA, the meteor camera is part of a network of similar cameras that now cover nearly all of California.
The camera was installed during a heavy snowstorm.
"The day we installed the meteor camera, none of the astronomers had ever seen so much snow up there. It felt like we'd gone up Mount Everest," he said.
Ringwald is a member of the Central Valley Astronomers, Fresno's amateur astronomy club.
"The Central Valley Astronomers are among the most active and best astronomy clubs on planet Earth," he said. "Ever hear of an amateur brain surgeon? Of course not, since there's no such thing. One of the nice things about astronomy is that amateurs have long contributed to the science, mainly because there are a lot more stars than there are people to look at them. The planet Uranus was discovered by an amateur astronomer in 1781. With modern telescopes, cameras, and computers, amateur astronomers are now more important to science than ever."
The Central Valley Astronomers also help with education and public outreach at the Downing Planetarium at Fresno State. They offer star parties, taking telescopes out to dark skies. They also host sidewalk astronomy events at which they observe the Moon.
On the lawn of the planetarium is the Campus Observatory — built by professor Steve White and established with the help of the Central Valley Astronomers. Members of the club also founded Sierra Remote Observatories and continue to help Ringwald run Fresno State's station.
And Ringwald's hobby? You guessed it — building and flying model rockets.
"My niece's son is interested in engineering, which has given me the opportunity to rediscover a childhood hobby," he said. "Don't worry, these are safe rockets, with the safety rules printed on every kit. His mother will never believe that, of course."