We hope you enjoy this series where we meet and get to know employees from across campus. Would you like to be featured? Contact us at campusnews@csufresno.edu.
Name: Thomas Loewenheim
Title: Director of Orchestras and Professor of Cello
Department: Music
Academic Degrees: Doctor of Music in Cello Performance and minor in Conducting, Music Theory, and Violin Making.
How long you have worked at Fresno State: 15 years!
What is your most notable accomplishment in your field, and why was it important? In music I do not think there is one notable accomplishment – rather a series of accomplishments that mount into a musical recognition and mature musical understanding. All the concerts I have performed and conducted, the people I have collaborated with, the students I have taught and their successes, and the many festivals I have attended and created throughout my career have mounted into who I am today. That said, I think that conducting the Fresno Orchestra Summer Academy (FOOSA) at the Walt Disney Concert Hall represents the culmination of all my efforts as a musician and educator. FOOSA is a collaboration between Fresno State and the Youth Orchestras of Fresno and is a project that demonstrates how music, education, and working with the community can come together and have incredible outcomes where both the students and the community gain tremendously. Musically, it brings together the incredible musicians I am honored to be working with and some of the most challenging works by Mahler, Strauss, and Shostakovich on one of the most recognizable concert stages in the world – the home of the Los Angeles Philharmonic. To be able to conduct these most challenging and satisfying works of music with my amazing colleagues and students is the most notable accomplishment I believe I have achieved so far.
https://www.youtube.com/watch?v=zSGM7LNeNn0
https://www.youtube.com/watch?v=SV1pkvvAcgo
https://www.youtube.com/watch?v=mQ4KUSQYvSk
What are you most passionate about in your field and why? I love teaching. I spend the majority of my time each day teaching cello, conducting young musicians and guiding them musically, building festivals, and creating opportunities for the next generation of musicians in Fresno and around the world. Seeing the growth of my students and witness them become mature, strong, and successful people and musicians is the most rewarding feeling I have. I also enjoy giving master classes around the world and helping students reach the most potential, sharing with them the information I was privileged to acquire studying with some of the greatest musicians of my time.
In addition, I love discovering musical works that have been neglected from the standard repertoire. My doctoral research focused on neglected works for cello solo from the later romantic period and early 20th century. Taking the time to research these works, find them, practice them, and eventually perform them has been a passion of mine for a long time. This passion has translated into researching works for large orchestra by lesser-known composers which I present with the orchestras I conduct. Each time I come across a beautiful work I did not know that I think my students and audience members will love is extremely exciting and it keeps my music making fresh and challenging.
What is a memorable moment you had at your job? In my third year at Fresno State, I had the opportunity to bring the Fresno State Symphony Orchestra and the Youth Orchestras of Fresno together for a performance of Gustav Mahler's Symphony No. 1. This was the first time I was able to have the two organizations work together which paved the road for many incredible collaborations in future years. The concert made a very strong impression on the community demonstrating what can happen when higher education works together with the community to create powerful opportunities for our students and youth and at the same time contribute to the cultural presence and growth of our community.
A couple of other memorable moments I had at Fresno State were the time I got to perform as soloist in Dvorak's Cello Concerto with my students in the Fresno State Symphony Orchestra and my conducting teacher, maestro David Effron.
Performing with my students is a unique feeling combining a deep sense of responsibility, pride, and gratitude to have such fantastic students I get to work with daily. I was privileged to play with them again this past March.
One more important moment was the 2019 Cello Fresno International Cello Festival which brought my teachers and my students together for a week of master classes and concerts. Having my students meet my mentors and work with them was a special opportunity that bridged over the generations and brought to life the stories I shared with my students about my teachers Mr. Tsuyoshi Tsutsumi and Dr. Helga Winold, my colleagues, and my students.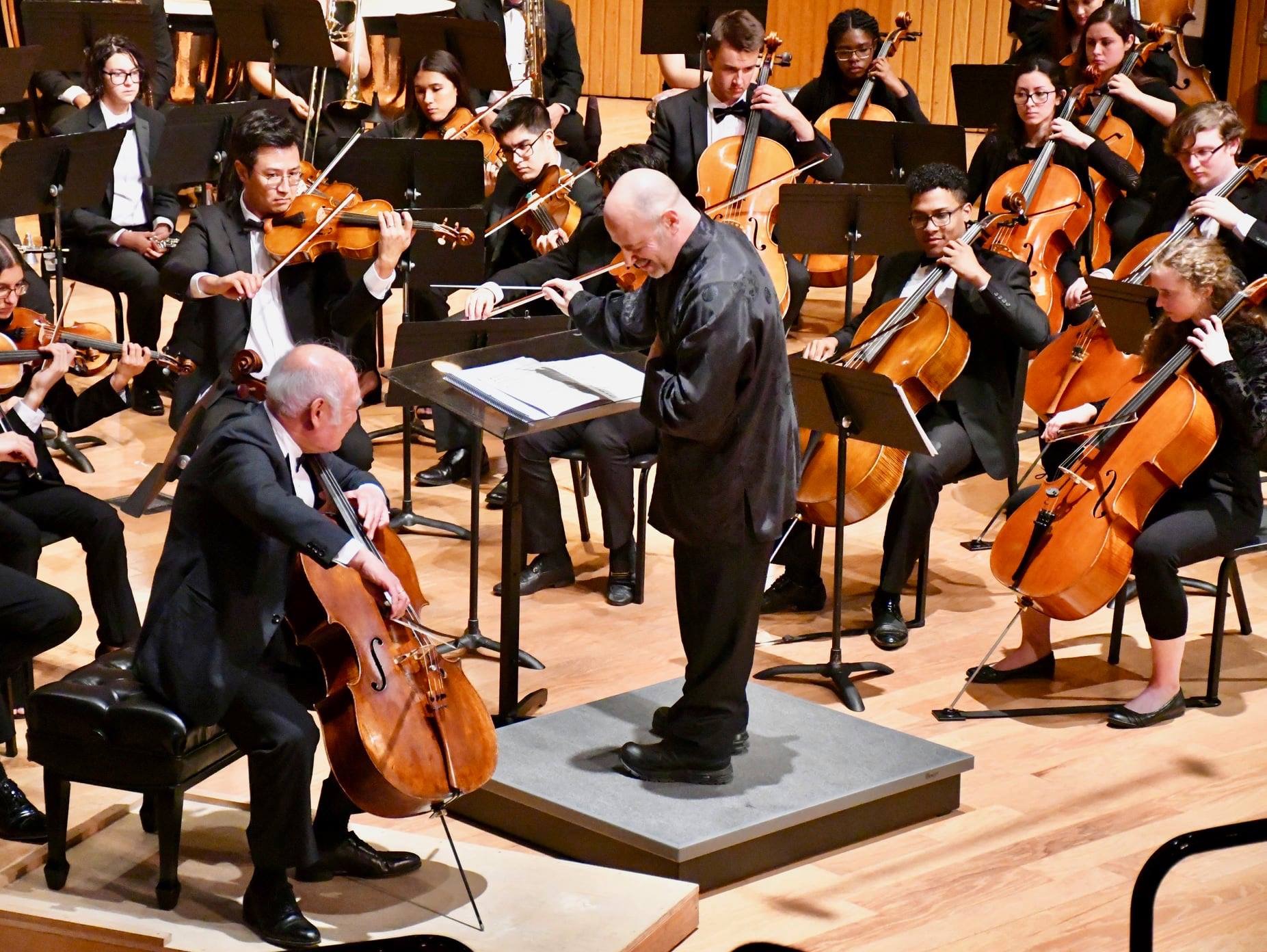 Prof. Tsuyoshi Tsutsumi performing with the Fresno State Symphony Orchestra at the Cello Fresno International Cello Festival in 2019.
What is a memorable moment you had in class, and what does that reveal about your teaching style? One of the many memorable moments I had here at Fresno State was during my first year here. I was teaching for a few months before I gave my first faculty recital on campus and the students came after the concert and said: "We loved your playing. But what we appreciated most is that you actually do all the things you teach. You don't just ask us to do things one way and then perform in a different way."
I hope it says about my teaching style that I demand of myself at least as much as I demand of my students, and that I am able to share with them the tools and information that made me the musician that I am today. I hope that they can eventually be better than I am and have wonderful and fulfilling careers in music or any other professions they will choose, passing on to them the tools of excellence I have gained from my teachers, who were some of the greatest artists and teachers in the history.
What do you like to do for fun in your spare time? Spare time….??? I didn't know I get this in my career as a musician……
I usually practice my cello whenever I get a moment when I am not teaching, conducting, or preparing for a concert studying a score, or do administrative duties. I also enjoy swimming and practicing music with my children. I remember my grandfather telling me it was his greatest joy to make music with me when I was younger, and I finally understand what he meant.
What is something interesting about you that most people don't know? In recent years I have grown to like technology less and less… however, in my youth I was fascinated with computers and computer programming. In junior high school I wrote a program that taught how to read music. The principal of the school and our computer programming teacher had to come to my home to see the program since I couldn't bring my computer to school. I used to keep up with technology till I realized that we all spend way too much time in front of screens and not spending enough time with our families, friends, and colleagues, and in the real world, so I decided to dedicate my time to create large scale music festivals that bring together as many people as possible to share the beauty of music and the beauty of the moment of spending time together with others.
Is there something else you would like to share that was not asked? Just that I am very thankful to be here at Fresno State and to work with my wonderful colleagues and students on a daily basis. Fresno State is a unique learning environment that gives both students and faculty a safe space to grow and explore their intellectual and artistic limits. The support I got from my colleagues and our administration has enabled me to create incredible opportunities for our students such as the International Cello Festival and FOOSA, as well as bring world class guest artists to inspire our students. All these gave my students endless opportunities to get inspired and grow as artists, and people, and exposed them to the highest levels of artistry and excellence, which they would otherwise not have access to. I am very thankful to both my colleagues in the music department and the deans, provosts, and presidents, who recognize the important work we do, and continue to support us and help us give our students the best opportunities we can create for them.