Challenge
How might we change pedagogical approaches to address the institutional oppression and mistreatment of students from historically oppressed groups?
Solution
The Office of IDEAS designed a Community of Practice development opportunity for faculty to hold space for honest conversations about racism and other forms of oppression. That same honest space was used to design prototypes and inclusive syllabi.
Background
Systemic oppression and institutional inequities impact Fresno State students in a variety of ways. Whether the metric is grades, retention, or graduation, historically oppressed groups are not achieving at the levels of more privileged groups of students. The stratification of class, race, gender, and other demographics significantly impact how students navigate their college journey. While these metrics are documented once a semester or every few years, the experiences students have related to bias, microaggressions and stereotype threat are daily. Faculty are in such an opportune position to positively impact more immediate outcomes like inclusion and sense of belonging in the classroom.
A Community of Practice
Participants in the first Community of Practice cohort explored their faculty dashboards and explored gaps from particular student groups related to representation, grade outcomes and completion rates. 58% of participating faculty reported being fully aware of statistical inequities at Fresno State prior to the Community of Practice. After completing the Community of Practice Summer Institute:
100% of faculty reported being fully aware of statistical inequities at Fresno State.
25% of faculty had a regular practice of viewing Office of Institutional Effectiveness data, reports and findings.
89% of faculty expressed plans to view their faculty dashboard as part of course design and updates going forward.
50% of faculty felt they had the tools to address inclusion in the classroom prior to the Community of Practice.
77% of faculty felt they had the tools they needed to address inclusion in the classroom directly after the institute.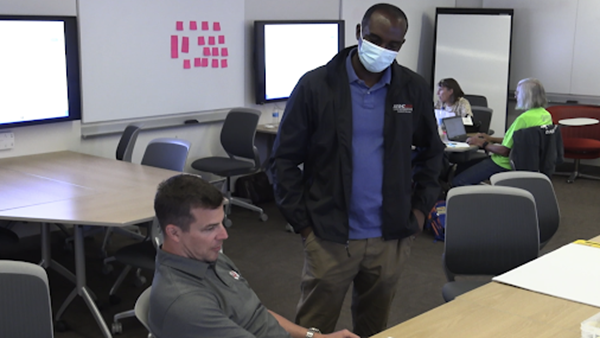 Dr. Travis Cronin, Social Work Department (sitting) and William G. Hardaway, Instructional Designer Center, Faculty Excellence.
All of these faculty will continue their journey in multiple ways. The Faculty Learning Community portion of the Community of Practice begins in fall 2022 and faculty will engage in consultations with the Office of Institutional Effectiveness and the Office of IDEAS' instructional design team as they sharpen their course redesigns. Faculty conducted interviews of Student Affairs Practitioners and students to inform their redesigns. One faculty interviewed a student taking a class on intercultural who felt like her opinions were not taken seriously which prevented her from participating in class for the remainder of the semester. Another faculty interviewed a student who could not gather information to meet the burden of proof to prove to a professor that they were having internet issues. Faculty redesigned course activities, made grading and late policies more flexible, and converted assignments to a transparent format.
Faculty who are interested in participating in the next Equity Minded Community of Practice can apply and express their interest through this qualtrics form.