Barlow Der Mugrdechian, professor, Armenian Studies Program, was appointed to the Arizona State University-based "Genocide Awareness Week" Advisory Board. The "Genocide Awareness Week" is celebrating its 10th anniversary in 2022. Der Mugrdechian was a speaker at the 9th Annual GAW in 2021.
---
Jefferson Beavers, English staff, was recognized by the Jan and Bud Richter Center for Community Engagement and Service-Learning with a 2020 President's Faculty and Staff Service Award for community volunteering for the second year in a row. He published the photographs "Spinning," "Shadows," and "Effects" in Flies, Cockroaches & Poets.
---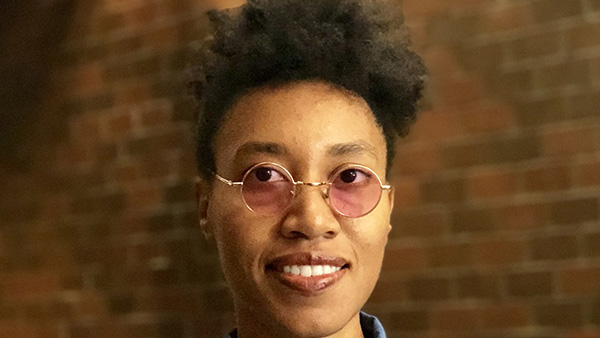 Venita Blackburn, English faculty, published her story "Halloween" in The New Yorker. Her stories "Black Communion," originally published in Ploughshares, was re-published in Harper's Magazine; and "Smoothies," previously published in Split/Lip Magazine, was noted in the 2021 Wigleaf Top 50 list. Her second story collection, "How to Wrestle a Girl," was published by Farrar, Straus & Girroux. The book was included in Lambda Literary's list of "September's Most Anticipated LBGTQIA+ Literature;" Vulture's list of "40 Books We Can't Wait to Read This Fall;" Alta Online's list of "14 New Books for September;" and the Oprah Daily list of "The Best LGBTQ Books of 2021."
---
Steven Church, English faculty, published the essay "Trepanation [What the World Needs Now]" in Diagram. Interviewed by Brynn Saito for the Fresno Poets Podcast.
---
Ronald Dzerigian, Division of Research and Graduate Studies staff, published the poem "Night Market of Ghosts" in Zone 3 Press journal.
---
Randa Jarrar, English faculty, recently published the memoir "Love Is an Ex-Country," which was mentioned in the Book Riot list "10 Thought-Provoking Road Trip Books," the Harper's Bazaar list "20 Best LGBTQ+ Books of 2021 and Beyond," and the Cultured Vultures list "10 Best LGBTQ+ Books of 2021 So Far."
---
Dr. Alison Mandaville, English faculty, was awarded a monthlong, interdisciplinary art and writing residency for summer 2022 at Stove Works in Chattanooga, Tennessee.
---
Mai Der Vang, English faculty, had her debut poetry collection, "Afterland," published in 2017 by Graywolf Press, translated into French. She published her second book, "Yellow Rain," with Graywolf Press and published the poem "Disfigures" in the Adroit Journal.