The campus enjoyed a reviving rain last week.
It rained...finally! Traci Obata (Undergraduate Admissions) took this photo of the parking lot located east of the Joyal Building after she arrived to work last Tuesday morning.
"I took this photo before 7:30 a.m. with light rain falling," she said. "The parking lot blacktop looked shiny and slick and I could see rays of dim sunlight peeking out from the rain clouds to the east."
The rain soon passed, however. During her mid-morning break, Traci captured a panoramic view of the sky and lawn area located west of the Peters Building.
The rain had stopped and the clouds were rolling over campus like thick white blankets of cotton.
"The rain was actually a welcome sight since we have not had a drop of it all summer," she said. "We needed it to clear out all of the Valley dust."
Wednesday morning started as another dark and cloudy day on campus, but Traci did get a glimpse of a beautiful sunrise peeking out of the clouds. It briefly spread some sunshine over the Fresno State Ag fields before the rainfall began again.
"It's a great way to begin a dark and rainy day with a glimpse of a beautiful sunrise — courtesy of Mother Nature," Traci said.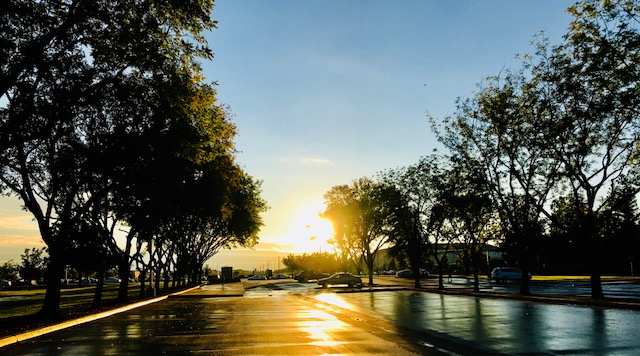 The glowing sunrise Thursday morning illuminated the parking lot behind the Joyal Building and the blacktop looked like it had been sprinkled with magical gold dust.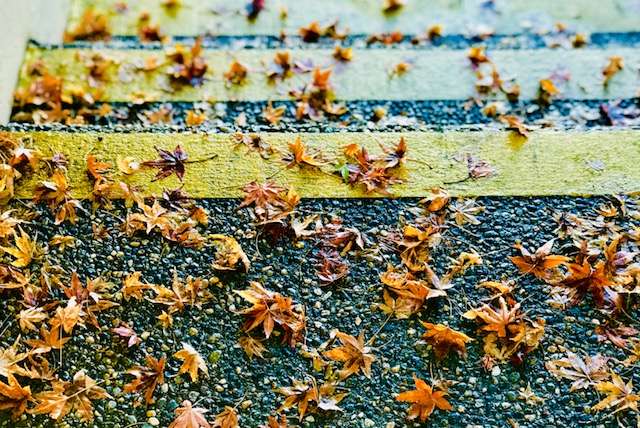 Fall leaves driven in the rain.
---
More rainy day shots from this spring