Beginning today, Facilities Management will provide a monthly progress update on the Central Utility Plant Replacement (CUPR) project.
As a reminder, this campuswide project will contribute to carbon-reduction goals by reducing energy consumption through central plant efficiency improvement, increased electrification and implementation of building energy-efficiency measures and renewable generation.
We are pleased with progress so far, as explained below, and thank everyone for their patience and support as our campus moves away from fossil fuel use and toward a more sustainable future.
---
LED Lighting Upgrades
Upgraded LED lighting and sensors in 22 campus buildings will enhance learning and working environments through improved lighting quality and user control and use of available daylight that will contribute to 30% reduced energy consumption.
Installation of new light fixtures and switches in the South Gym is nearly complete. Additionally, the installation of lighting fixtures in Grosse Industrial Technology is in progress. Lighting controls are being programmed in the following buildings where upgraded light fixtures and switches have been installed: Engineering East, Conley Arts, Family Food Science, Music, Peters Business and South Gym.
The upgraded lighting will automatically turn off after 30 minutes if no movement is detected. Please help save additional energy by turning lights off manually in all buildings when you are the last to leave a space.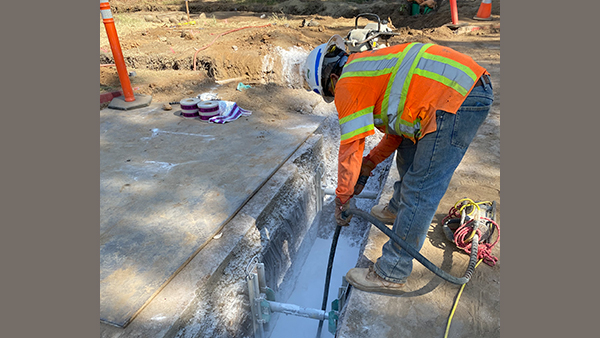 Gilsulate Vibrations – The Gilsulate material is compacted through vibrations to prevent any sinkholes occurring after the final grade is put down.
HVAC and Controls Upgrades
The heating, ventilation and air conditioning (HVAC) and energy management system (EMS) in 10 campus buildings are being upgraded. (The EMS monitors and controls the HVAC systems, along with all the other systems on campus, to maintain occupant comfort while increasing energy efficiency.)
The building controls are nearing completion in: Speech Arts, Family Food Science, McKee Fisk, Engineering West and Grosse Industrial Technology.
The approximate timing of building controls upgrades of remaining buildings can be seen here.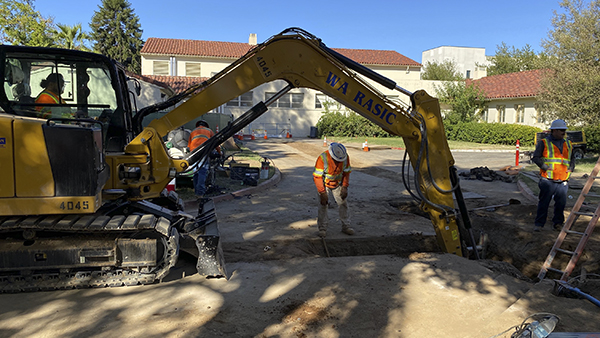 Lateral Line – Old Music – Piping being installed to connect Old Music with the main loop from the Central Utility Plant.
Domestic Hot Water
New heat pumps are being installed to support the domestic hot water (DHW) load for 14 campus buildings. These buildings require hot water year-round, and the heat pumps meet this need in an energy-efficient manner.
Plumbing for the hot water heating pipes is complete in the following buildings: Music, Speech Arts, Agricultural Sciences, Professional Human Services, Family and Food Science, Agricultural Mechanics, Kennel Bookstore, University Center, Frank Thomas, Kremen, Satellite Student Union and University High School.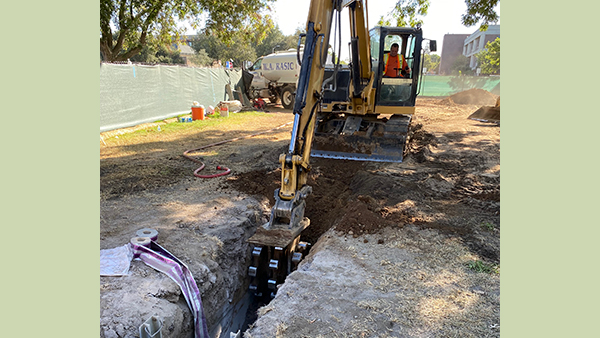 Lateral Line – Ag Mechanics – Piping being installed to connect Ag Mechanics with the main loop from the Central Utility Plant.
Utility Distribution System
Natural gas use on campus will be reduced by 73%, thanks in part to new underground distribution piping connecting buildings to the central plant (new centralized chiller and boiler plants) that provides heating and cooling to many campus buildings.
Wondering what work is being done inside the construction fenced areas? As part of this phase of the project, installation of piping is underway to connect each building to the main loop of the distribution system; these pipes—called lateral lines—include chilled and hot water lines. The chilled water line installation is in progress at the Music building. The lateral line to the Agricultural Mechanics building is nearly complete. The lateral line to the Satellite Student Union will be installed next.
As this work is completed, you will see new concrete being poured to restore sidewalks, as can be seen by the recent work completed by University High School and the Maple Mall.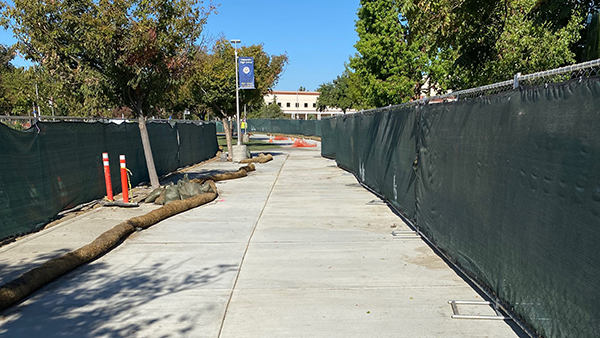 University High School sidewalk – Concrete work is complete at University High School.