We hope you enjoy this series where we meet and get to know employees from across campus. Would you like to be featured? Contact us at campusnews@csufresno.edu.
Name: Kelley Kitzmiller
Title: Accounting Analyst II
Department: Foundation Financial Services
How long have you worked at Fresno State? Nine and a half years.
What do you do at Foundation Financial Services? I administer the Foundation's trust accounts which is funded mostly by donated money for the academic programs, colleges and divisions making sure those funds are being maximized and used in accordance with the donor's intent, University and foundation policies and procedures. My job allows me to see firsthand our donated dollars at work that have greatly blessed and benefited our students and our University.
What are you most passionate about in your position and why? I love accounting and I love helping people. My current position allows me to do both.
What is a memorable moment you had at your job? Due to a miscommunication, I was 45 minutes late to work on my very first day. I was told to report to HR at 3 p.m. but hadn't been told that I was to report to my new position at 8 a.m. When I didn't show up at the start of the work day, my supervisor called to ask if I was still coming to work at the foundation. Fortunately, I was so excited to start my new job, I was already dressed and ready to go. I was able to get to the office in 15 minutes flat.
What is the most interesting or unusual job you've ever had? The most interesting and unusual job I had was during college. I worked for an agency that hired students to assist older persons with minor housekeeping, shopping and companionship. I had one senior who insisted that I do his yardwork in the dead heat of summer which, of course, was not in the scope of my work. Mostly, the seniors were wanting companionship. I enjoyed hearing their old stories and some of the seniors could be a real hoot.
What do you like to do for fun in your spare time? I like to travel the California coast with my husband, from Morro Bay to Fort Bragg, to beachcomb for sea glass.
What is something interesting about you that most people don't know? I am a diehard Fresno State Football fan and an Oakland … er … Las Vegas Raider's fan. I am so excited that Derek Carr and Davante Adams are playing together again.
Is there something else you would like to share that was not asked? My husband graduated from Fresno State in 1989 exactly one week before our wedding. We have been married for 33 years. Our son recently earned his master's degree in history from Fresno State.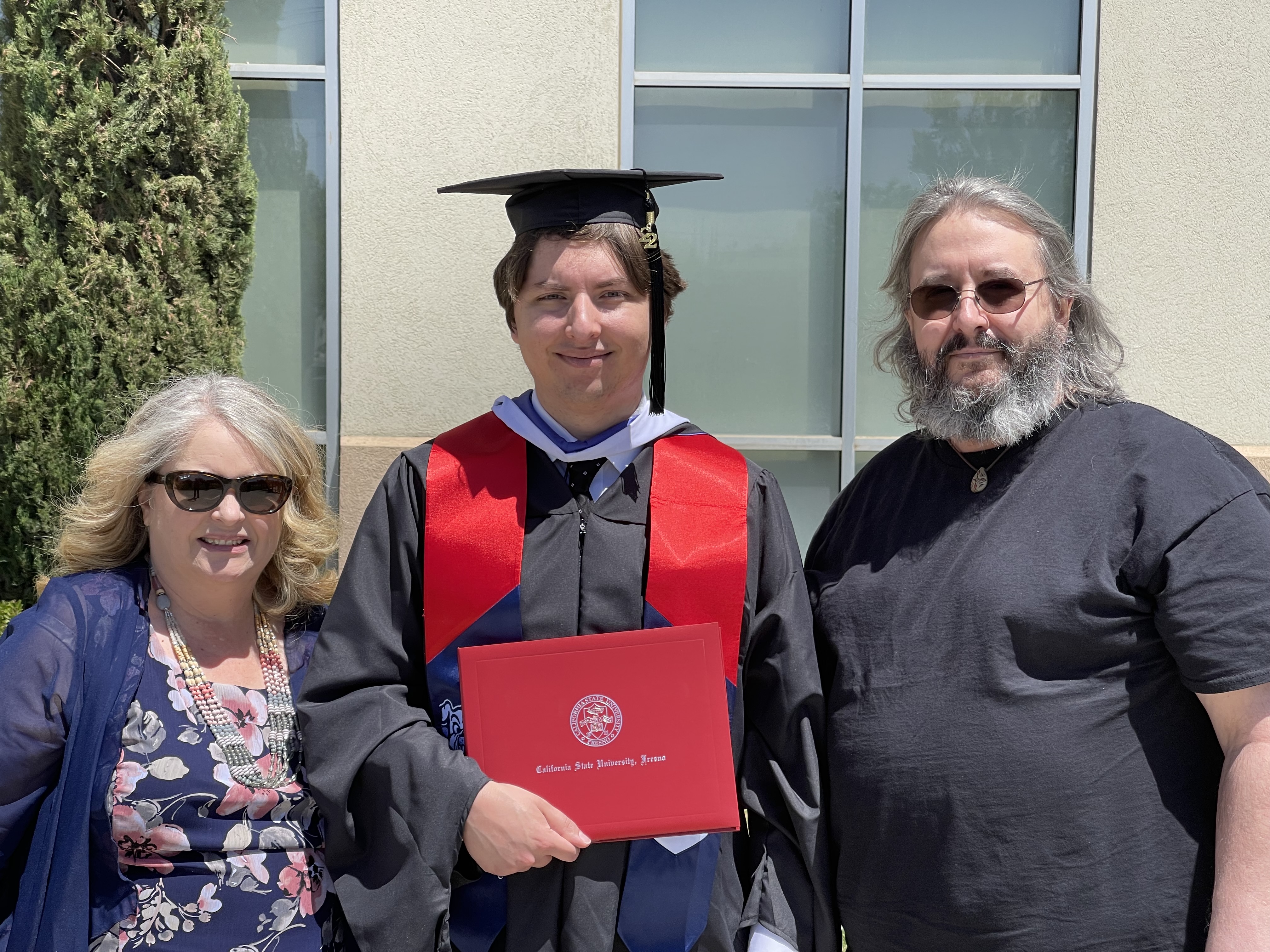 Kelley with her son Ben and husband Kevin.