Dr. Rosemary Wanis, a full-time deaf studies lecturer in the Department of Communicative Sciences and Deaf Studies, believes the ability to provide access and also receive is important now more than ever as our community and nation undergo challenging times.
"Because of the ADA, all emergency information needs to be accessible for deaf and hard of hearing people through captions and through ASL," said Wanis, who is also a certified deaf interpreter. "With COVID, it has been more of a challenge as we have to use technology to enhance the information."
Wanis knew more needed to be done to ensure communication access to everyone across the city - but also the state. With that in mind, this past summer, she spearheaded and organized a group of 14 volunteers, all deaf individuals who work as deaf interpreters to provide latent interpreting - which means "interpreting after the fact". The reason for this was clear - information needed to not only be accessible, but understandable.
"So when we initially started, we heard a lot of stories of people who were confused or had misinformation from what was being shared during the governor's news briefings," Wanis said. "They thought 'shelter in place' meant they could not leave their house at all. They were starving. They literally didn't have food because they didn't know that they could go out. Some people had masks, others didn't. There were some refugees who were going through traumatic experiences, thinking mask means a gas mask. There were tons of misconceptions and misunderstandings going on."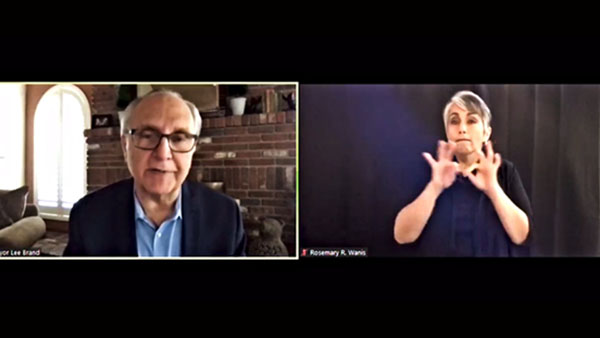 This misinformation was only compounded by news reports and government briefings that were oftentimes fast-moving, complex and difficult to follow, Wanis said. Within 24 hours of each news briefing, Wanis and her team got to work sorting through the elaborate health and safety information and turning it into a 15-minute message with appropriate photos and graphics, and simplified language for the deaf and hard of hearing audience, in an effort to meet the community's communication needs.
These videos are then dispersed to various deaf and hard of hearing service agencies throughout the state, including here in Fresno. Information is also shared via the volunteer group's official YouTube channel, which receives over 4,000 views from all over the world, from those who sign in a variety of languages beyond American Sign Language.
Visit the College of Health and Human Services blog to read more.