The push to develop new products in the nation's leading dairy state is also the impetus behind a new, three-year $1.8 million grant from the U.S. Department of Agriculture Agricultural Marketing Service aimed at dairy business innovation.
Graduate student Daniel Olmos is channeling his love of science and food to integrate two of his favorite campus farm products into his graduate research project.
Working with food science and nutrition faculty Dr. Carmen Licon Cano, the Fresno-native Olmos is creating a new, wine-infused cheese product that he hopes to produce at the campus creamery for the Gibson Farm Market, and later potentially on a larger scale.
"When you try to produce cheese and wine, there is a fair bit of chemistry and microbiology to consider," Olmos said. "An infused cheese like this is an artisanal product that you might see produced in Spain or other parts of the world, so it's exciting to consider its potential here. Dairy products are exciting to work with since they're very functional, nutritious and delicious."
Licon will work with Dr. Susan Pheasant, director of the Institute for Food and Agriculture at Fresno State, to coordinate a program that will position students, faculty, staff and campus facilities to support industry partners in California, Oregon and Washington to launch a newly-created Pacific Coast Coalition for dairy processors.
Visit Fresno State News to read more.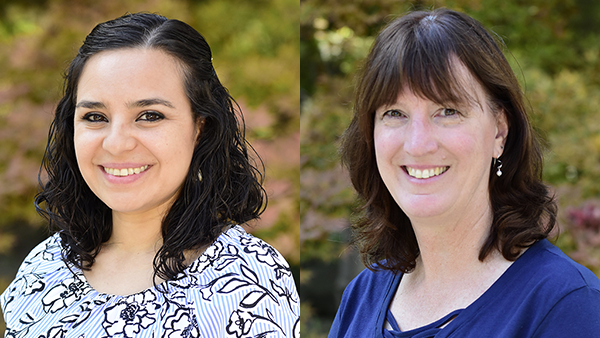 (Dr. Carmen Licon Cano, left, and Dr. Susan Pheasant)