In a small physically distanced ceremony, about two dozen people gathered as Fresno State joined the California State University system on Oct. 2 in honoring the far-reaching legacy of labor leader and civil rights activist Dolores Huerta with a tree-planting ceremony in the Peace Garden on campus.
The CSU Board of Trustees passed a resolution in April of this year, on the occasion of Huerta's 90th birthday. Each of the 23 campuses in the CSU system will pay tribute to her by planting a tree or by taking other appropriate commemorative action to honor her lifelong work in service to California and Californians.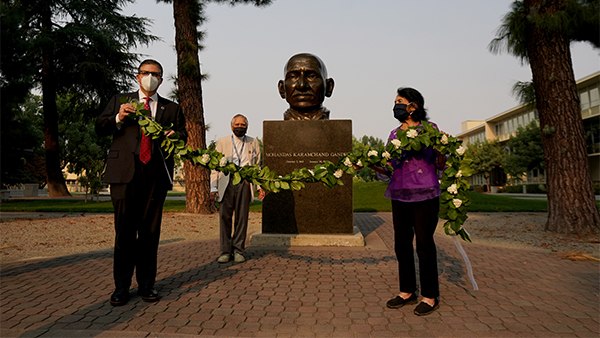 President Joseph I. Castro (left), with Dr. Sudarshan Kapoor and Dolores Huerta place a garland at the Ghandi memorial.
For the event at Fresno State, a ginkgo tree was planted next to the statue of César Chávez, with whom Huerta spent many years advocating for the rights of and improved working conditions for farmworkers.
"As an iconic activist for social justice, Ms. Huerta has proven herself a resolute champion of labor rights, immigrant rights, civil rights, environmental rights, women's rights and LGBTQ rights," said Dr. Joseph I. Castro, Fresno State president and chancellor-select for the California State University. "Ms. Huerta has also long been a champion of access to higher education and the catalytic opportunities that California State University provides to individuals and families across the state and beyond. As an influential and respected voice for the transformative power of a college degree, she is an uncompromising advocate for equity in education."
Visit Fresno State News to read more.