We hope you enjoy this series where we meet and get to know employees from across campus. Would you like to be featured? Contact us at campusnews@csufresno.edu.
Name: Katelyn Spencer (she/her/hers)
Title: Administrative Assistant
Department: Office of the Vice President for University Advancement
Academic Degree(s):
A.A. Art and a Certificate in Bookkeeping, Fresno City College
B.A. Art, Fresno State
M.A. Higher Education, Administratiion and Leadership, Fresno State
How long have you worked at Fresno State and in which offices have you worked?
I have technically worked here since 2012, where I worked at the Post Office in the USU. When I graduated in 2014, I did a brief stint in Student Involvement before landing in the Division of University Advancement where I worked as an administrative assistant for various offices. I have been here ever since.
Are you a Valley native?
I was born and raised in Fresno. This is the local university, so there was no doubt that I would attend.
Do you have a campus mentor or someone who has helped you in your career?
Dr. Jonathan Pryor in educational leadership was my mentor throughout my masters program. He was truly insightful and I have loved the opportunity to work with him in various capacities.
Tell us about your department and what people may not know about it.
University Advancement focuses on promoting philanthropy that benefits the entire university. Our frontline fundraisers, alumni engagement, communications and branding all work together to elevate campus, and above all, support student success. One of the greatest things I think we accomplish is finding ways to connect with donors and work with them to support their passions, whether it's through scholarships or programmatic support.
What is a memorable moment you had at your job?
Over the last few years, I have been able to collaborate with so many great colleagues to put on the Rainbow Graduation Celebration for our LGBTQ+ graduates and allies. Just the opportunity to celebrate so many of our talented graduates that promotes pride in who they are is truly a heartwarming feeling. Just last year, we were able to celebrate our largest graduating group, and it's rewarding to see so many people join in.
What is a memorable moment you had in class?
During my last semester of my master's program, two colleagues within my cohort put together a podcast as our final project that revolved around current issues in higher education. We took the opportunity to discuss different student populations that typically did not receive as much spotlight as others in day-to-day conversations, and that inspired us to create the In the Shadows Podcast. Although it is only five episodes long, I thought it was a great experience and I'm glad I got the opportunity to work on it.
What is your favorite quote or saying?
The sun will rise and we'll try again. Every time I read it, it really does spark hope that we will always keep moving forward no matter the obstacles.
What is the most interesting or unusual job you've ever had?
I had worked as the office assistant for Dog Days New Student Orientation in summer 2013 as an undergraduate student. It was a fulfilling experience to help students and parents prepare to come to college and make sure they had the information they needed to start off on the right foot. It was great to work with Ken Ternate as well as that cohort of orientation leaders, and it is an experience I will always share with any student who would be interested in going down that career path.
What do you like to do for fun in your spare time?
My partner Colleen and I love to play video games, so that is certainly a fun pastime. When we are not playing, we tend to lean towards watching whatever horror movie piques our interest.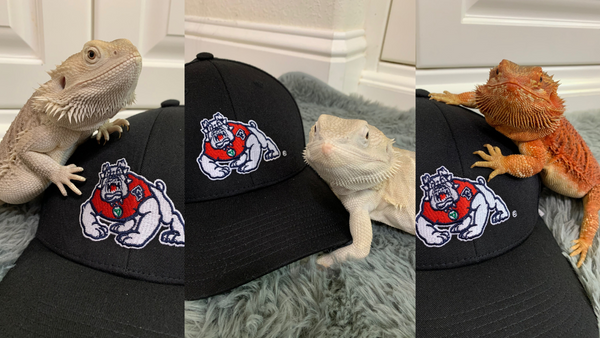 Ares (left), Athena (middle) and Aphrodite (right)
What is something interesting about you that most people don't know?
I jokingly say that Colleen and I have a menagerie of pets but they certainly are not the traditional pets. In addition to our puppy Daisy, Daisy Mae if you will, we have three bearded dragons, Ares, Athena and Aphrodite, that are known at The Beardie Pantheon, an African fat-tailed gecko named Reese, and hundreds of fish that Colleen raises and sells to Whitie's Pets, including our Blue Eye Lemon Bristlenose Plecos, coded as "L144."