We hope you enjoy this series where we meet and get to know employees from across campus. Would you like to be featured? Contact us at campusnews@csufresno.edu.
Name: Robert PageSmith
Title: Coordinator of Advising and Career Development Center
Department: College of Health and Human Services
Academic Degree(s):
Bachelors of Social Work Education, Fresno State
Masters in Counseling - Counseling and Student Services, Fresno State
How long have you worked at Fresno State and which offices have you worked in?
I've been on campus for 16 years. I spent the first 8 1/2 years in the Athletics Department as an academic advisor. I have been on campus in CHHS Advising and Career Development Center for the past eight years, with the past four as the coordinator.
Are you a Valley native? If not, what brought you to the area and to Fresno State?
I am a Valley native. I grew up in a small town outside of Porterville. I came to Fresno State to run track as it had an awesome track team and was close to home.
Are you a Bulldog family with generations of Bulldog graduates or current students?
I am a first-generation college student. I was the first in my family to attend Fresno State and graduate. My wife is also a proud alumni of the university and graduated with a degree in linguistics.
Do you have a campus mentor or someone who has helped you in your career?
One of the greatest mentors I had on the campus was my internship supervisor when I was going through my social work internship in EOP. Victor Olivares was pivotal in challenging and pushing me. He is one of the reasons I applied for the masters degree in counseling. He believed in me and saw my potential even when I wasn't so sure. I owe a lot of who I am today as a professional to his mentorship.
Tell us about your department and what people may not know about it.
The CHHS Advising and Career Development Center is the main advising hub for the College of Health and Human Services. We have been helping students in our current format since 2014. On any given semester we see close to 2,500 students and more.
What is your most notable accomplishment in your field, and why was it important?
I got to help in the development of our new pre-health major within the College of Health and Human Services. It has been the highlight of my career to help in the development of our new pathway programs.
What are you most passionate about in your field and why?
I am most passionate about developing holistic students. College is not just about taking classes to get a degree. It is about developing yourself both academically and personally. I love being part of that process to develop students into their best selves.
What is a memorable moment you had at your job?
I had a student who had gone through a really difficult time in her life. She had to leave the university to take care of life. I helped her through the process like I would any student. However, when she came back a few years later, she came to see me and thanked me for being so understanding and helping her walk through the difficulty. It reminded me that you never know what impact you might have in a person's life and to always strive to help others no matter how hard the situation.
What is your favorite quote or saying?
If you want to be different then you need to do something different. If you keep doing the same thing you will get the same result. So be different.
What do you like to do for fun in your spare time?
I love to cook! It doesn't matter what it is, I love to get in the kitchen. I also love to read and I am an avid reader of science and fantasy fiction. I also love to garden.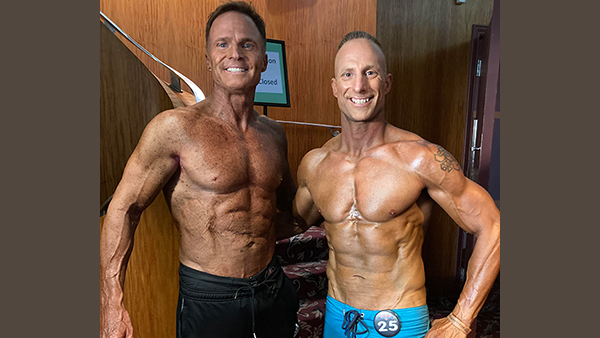 Robert PageSmith in turquoise shorts (right)
What is something interesting about you that most people don't know?
I love fitness, health and wellness. While most people know this about me, I recently competed in a bodybuilding contest which was pretty fun and different from any sports competition I've ever been in.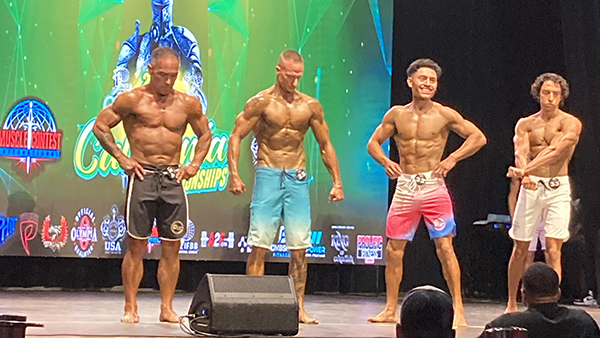 Robert PageSmith (second to left) with fellow bodybuilders