Social psychologist Dr. Robert V. Levine (Psychology) has had his latest book, "Stranger in the Mirror: The Scientific Search for the Self," recently published by The Press at Fresno State. The book challenges our assumptions about who we are and the entity we call our self. See more.
---
In addition to teaching at Fresno State, Mark Baldis (Kinesiology) has joined the Fresno Football Club's medical team as their Exercise Physiologist, providing a valuable connection between the Department of Kinesiology and the new local professional soccer team.
---
Gyanesh Lama (Social Work Education) co-authored "Poor People are Hospitalized Three Times More for Mental Health Services than the Non-Poor in Central Valley California" with Central Valley Health Policy Institute's Emanuel Alcala and John Capitman. The article was published in the January 2018 edition of Healthcare journal.
---
Dr. Larissa Mercado-Lopez (Women's Studies) was selected as a 2018 Emerging Scholar and is featured in the January edition of Diverse: Issues in Higher Education magazine. The article focuses on Mercado-Lopez's research on Chicana literature and feminist fitness along with her research on student parents at Fresno State. See more.
---
An article by Julie Moore (Library) was published in Catalogue and Index, December 2017, Issue 189, pages 11-19. The title of the article is: "Cataloging Three-Dimensional Objects: The Funniest of the Funny Formats." Catalogue and Index is a British periodical of the Cataloguing and Indexing Group, a Special Interest Group of CILIP, the Library and Information Association.
---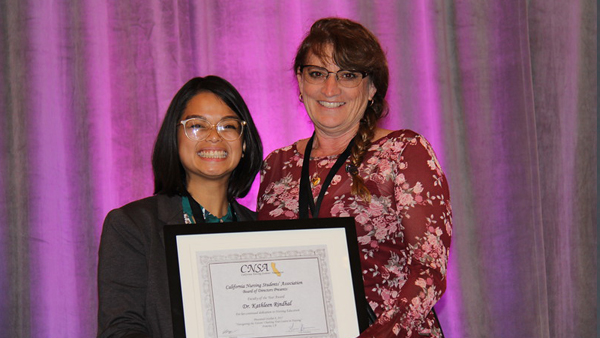 Kathleen Rindahl (right) receiving her award
Kathleen Rindahl (School of Nursing) was awarded 'Faculty of the Year' by the California Nursing Students' Association. The award recognizes outstanding faculty members who demonstrate leadership and provide support for students involved in the association. Rindahl serves as faculty advisor for the Fresno State Nursing Students' Association.
---
Brandon Taylor (Recreation Administration) was elected to represent Region 3 in the California Park & Recreation Society's Board of Directors. He will be officially installed for the two-year term at the CPRS conference in March.