The Learning Center is proud to introduce two staff members who have recently accepted elevated positions within the department. Together, they offer tremendous insight on successful academic support practices. We are thrilled to share their vast range of expertise and passion for student success with the campus community. Visit the Learning Center website to learn more about its services.
"As tutoring coordinator, I ensure timely scheduling and delivery of tutoring services in the Learning Center, with the goal of giving students what they need when they need it. I also hire, train, observe and coach Learning Center tutors, who support students with hundreds of Fresno State courses and many specialized skills such as computer software and programming languages. In short, I help students help other students learn!" - Tony Loscano, tutoring coordinator
"I recently transitioned from my role as the SI specialist to the SI assistant coordinator. In this role, I lead recruitment and hiring of our SI leaders, plan and deliver training, create SI schedules, conduct regular observations of SI mentors, and help oversee the daily operations of our student employees. I also work closely with our SI coordinator to continuously find ways to expand our services and reach as many students as possible." - Nancy Rosales, Supplemental Instruction assistant coordinator
---
Jefferson Beavers, English staff, published the poem "Cary Park, May 14, 2017" in the Wild Blue Zine.
---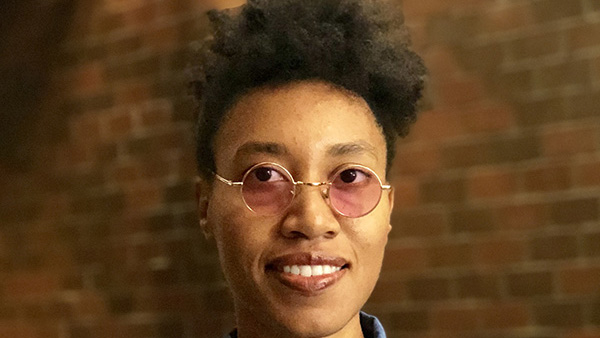 Venita Blackburn, English faculty, was long-listed for the 2022 Joyce Carol Oates Prize, honoring mid-career authors of fiction. Her new story collection "How to Wrestle a Girl" was reviewed by Jared Jackson in The New York Times, and noted as a NYT Books editor's choice selection. Also interviewed about the book in Lit Hub, in Kirkus Reviews, in Alta Online, in the Los Angeles Daily News, by Mina Kim for KQED's Forum, and by Tyrese L. Coleman in Electric Literature. Her book's publisher, Farrar, Straus and Giroux, marked her publication day with a collection of original illustrations by artist Elliott Chambers. The book was included in the Autostraddle list "75 Queer and Feminist Books Coming Your Way in Fall 2021," The Rumpus list of "What to read when in search of bodies," and the Lit Hub list of "7 new story collections to fall into this season." Published the story "Live Birth" in the Iowa Review. Performed the story "Fam" on episode 20 of The Paris Review podcast.
---
Mariah Bosch, English lecturer, published the poems "In fantasy I live forever" in Crazyhorse magazine, "She inventories her cupboards, I just stand there" and "Finding" in the Wild Blue Zine, and "[I move through a forest cracking ribs]" in Small Press Traffic.
---
Steven Church, English faculty, was featured on the Radio Boise podcast "Writer to Writer" for September 2021.
---
Ronald Dzerigian, Division of Research and Graduate Studies staff, published the poem "'Canto 25' from A Lie in the Refrain" in the Wild Blue Zine.
---
Jacob J. Hernandez, English lecturer, published the poem "Nomad" in Small Press Traffic.
---
Dr. Nupur Hajela, assistant professor in the Department of Physical Therapy, presented on the use of "Virtual reality, Augmented reality and Artificial intelligence as tools to deliver Telehealth physical therapy in a hybrid world" at the Global Association for Physiotherapy Hybrid Conference on Current Trends in Physiotherapy, based out of New Delhi, India.
---
Dr. Reuben Addo and Dr. Randy Nedegaard, faculty in the Department of Social Work Education, published "The Role of Peer Support in Recovery from Psychiatric Symptoms: A Moderation Analysis" in the Community Mental Health Journal.
---
Dr. Miguel Perez, professor in the Department of Public Health, has joined the Board of Public Health Education and Promotion as an associate editor
---
Dr. Tania Pacheco-Werner, co-director of the Central Valley Health Policy Institute, was reappointed by Gov. Gavin Newsom to the San Joaquin Valley Air Pollution Control District, where she has served since 2020.