We hope you enjoy this series where we meet and get to know employees from across campus. Would you like to be featured? Contact us at campusnews@csufresno.edu.
Name: Dr. Mohan Dangi
Title: Professor
Department: Geography and city and regional planning [For Academic Year 2021-22: Environmental Sustainability Advisor, United States Agency for International Development Bureau for Humanitarian Assistance]
Academic Degrees: Ph.D., MS (Johns Hopkins); MSc, BSc (Colorado School of Mines); AS, Valedictorian (Central Wyoming College)
How long have you worked at Fresno State: 13 years
What is your most notable accomplishment in your field, and why was it important? I believe my work in understanding solid waste stream characteristics at the source of generation in developing countries is probably the most notable accomplishment in my field. My publication [Dangi, M.B., Pretz, C.R., Urynowicz, M.A., Gerow, K.G., and Reddy, J.M. 2011. Municipal solid waste generation in Kathmandu, Nepal. J. of Environmental Management, 92(1), 240-249] has been read over 6,903 times, one of the most-read articles of this kind, and cited 180 times.
Likewise, my other contribution [Dangi, M.B., Urynowicz, M.A., Gerow, K.G., and Thapa, R.B. 2008. Use of stratified cluster sampling for efficient estimation of solid waste generation at household level. Waste Management & Research, 26 (6), 493-499] was noted as the most-read article by Sage Publications in October 2010. These two manuscripts have been benchmarks in adopting stratified cluster sampling techniques, not used widely before, to conduct a solid waste study in low-income countries.
What are you most passionate about in your field and why? I am most passionate about sharing my life lessons in education generally, and solid waste management research, particularly, with my students whether I am teaching in a classroom or giving a talk across the world. To facilitate students' growth, help them succeed beyond the lecture hall, and work around their evolving needs and priorities, I frequently meet with students during odd hours and weekends. Realizing the importance to prepare a culturally aware and globally informed student body in today's competitive workforce, I, therefore, blended my research pursuits with fieldwork in Nepal to create a study abroad course, Cultural Landscape and Environmental Change in the Himalayas. The course brings 10 U.S. students to work with 10 of their Nepali peers each year. As a student, I never had this opportunity and this was the first task I initiated for my students as soon as I joined Fresno State faculty. I am most proud of my students that have taken part in it at the University of Wyoming and Fresno State since 2010.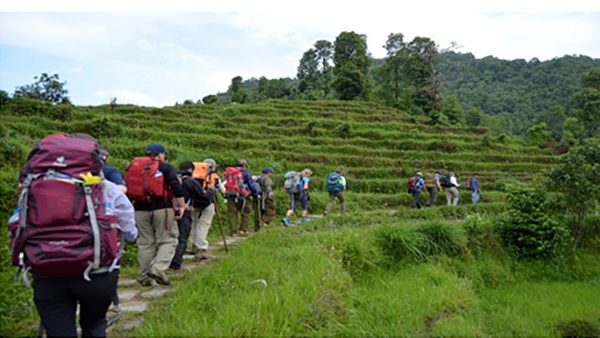 U.S. and Nepali researchers led by Dangi trek across famous Annapurna Range to study mountain ecosystem.
What is a memorable moment you had at your job? There are many such moments and it's so hard to put them in a sentence or two. I recall a Fresno State student who took part in the study abroad course in Nepal through the University of Wyoming and said to a crowd including former Prime Minister of Nepal and the highest level officials of Tribhuvan University, a central university in Nepal, "Your Rt. Honorable [former] Prime Minister, from this day onward I not only represent my own country of the U.S. but also represent the sister country of Nepal and what Dr. Dangi and his research group have done for this beautiful nation, someday, I would like to replicate the work in my native country of Mexico." Coming from a Fresno State student who grew up in Salinas Valley [California] to a theater full of a national audience in Nepal toward the conclusion of their study pleasantly surprised everyone! Even more rewarding is when these students continue their passion in their local communities and help build the capacity of the U.S. after they graduate.
What is a memorable moment you had in class, and what does that reveal about your teaching style? When I was teaching about the municipal solid waste topic during my first year at Fresno State, I remember there was a technology issue and I couldn't project the PowerPoint slides. Instead, I drew the entire layout of a landfill on the whiteboard showing how the leachate (polluted water) collection system works in it. In my opinion, this probably opened students' eyes especially since there was a subsequent field visit to American Avenue Landfill in Kerman where the students were able to recount what they had learned in the course. This should tell that my teaching is grounded in my practice where I often refer the materials to real-world applications and bring the applications to the classroom.
What do you like to do for fun in your spare time? I do well in an environment that includes team spirit. This is something I probably embraced from my earlier engineering education at the Colorado School of Mines. Collaboration and cooperation come naturally to me, and I often think of collaborative work even in my spare time. The focus on teamwork and cooperation has yielded eight memoranda of understanding between the U.S. and Nepali universities and many academic and development projects. Besides, I enjoy visiting the Central Coast, Yosemite and the Himalayas.
What is something interesting about you that most people don't know? Growing up in Nepal we were frightened of stray dogs and taught to stay away from them. My children wanted a dog for a long time and when I was in Australia in 2019 they surprised me with a puppy when I returned home. Ever since I have fallen in love with our puppy "Max." I believe dogs are the best friends a man could ever ask for.
Is there something else you would like to share that was not asked? As a first-generation college graduate, it has been a long and arduous journey to where I am now. However, I do not regret all of the hours of hard work and study required. That experience has made me sensitive to the demands and difficulties of the students that I come in contact with. I also believe that there is so much opportunity for our students due to the quality education they are receiving at Fresno State. I encourage each of them to take full advantage of the resources the University offers while they are here for four or more years. As a faculty and mentor, I am always available for our students to help them succeed in any way I can.