What Debra Pichardo (Physical Therapy) loves most is serving Fresno State and helping fellow colleagues, as well as assisting students. And her family is joining in.
June 11 will mark Debra's 11-year anniversary of working on campus. She has held positions that ranged from Graduate Admissions, Evaluations, Undergraduate Admissions and now the Department of Physical Therapy.
Prior to coming to Fresno State, she was an administrative auditor for the City of Fresno.
"I became interested in the administrative field because I have a passion for meeting and helping people," she said. "If I could help just one person (staff, faculty, student) a day, then this job and the challenges I have faced to get here are very much worth it."
Her current responsibilities include maintaining Department of Physical Therapy budget, coordinating events, and entering spring/fall schedules into PeopleSoft.
"I would say the most challenging part about my current position is maintaining the budget," she said. "It can be very tedious and challenging. At the same time it can be very rewarding because I have been given an opportunity to grow within the University, the department, and most importantly, myself."
For Debra, Fresno State is really a family affair. Her husband, Angel, has been working on campus for almost two years in the Henry Madden Library as a budget analyst. Their older daughter, Selina, also works on campus in the Department of Psychology as the administrative assistant.
They also have a middle daughter who works at the Bulldog fan zone right across from Kremen Building.
Debra noted: "Our little one Esabel isn't old enough to work yet, but she has said, 'When I am older, I am going to work at Fresno State so we can be the working Bulldog family.'"
Surprisingly, although three Pichardos already work on campus and carpool together, they rarely see each other once on campus. But being Fresno State employees still affords them extra family time.
Daughter Selina loves that the family can share the same holidays and vacations together.
Debra agrees.
"We all were able to spend winter vacation together and all of us said how lucky we were to be able to spend the holidays together at the same time, because you never know where life will take us next holiday season," said Debra.
Prior to her husband coming to campus, he worked 1 ½ hours out of town as an accountant.
"It was absolutely nerve-wracking, especially when it was raining and when the fog rolled in," Debra said. "So when he was offered the position on campus I was, without a doubt, elated."
Debra is currently involved in the Administrative Academy on campus, which has the goal of allowing administrative professionals to share information and resources and to learn from one another.
"So far my most rewarding Friday in the Administrative Academy is when we were all given the book, 'Employees Survival Guide to Change,' third edition by Jeffrey M. Hiatt," she said. "If you're unsure of change, this book is for you."
Recently, Debra discovered a latent artistic talent.
"My hobby, besides shopping as my husband puts it, is making ceramics," she said. "I actually was apprehensive in taking a ceramics class. But at the end of class I was quite fond of it and even made a key holder, a tea cup and a bowl. Currently I am in the process of making bonsai pots."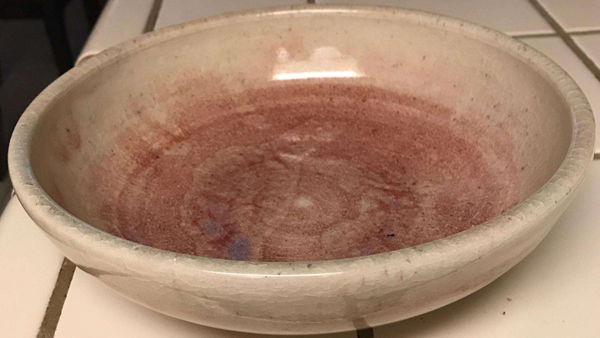 An example of Debra's ceramic work
The family's pet, Bella Bean, is a rescue dog with possible papillon roots; she is so small, some cats are bigger. But that doesn't stop her from thinking she is the house guard dog.
Debra and her husband recently celebrated their 25th wedding anniversary on December 29; they have been together 28 years.
"Many people ask how," she said. "My response is communication, goals, and, most importantly, faith, because with God the impossible is possible."
Angel and Debra have three beautiful daughters: Selina, 26, who works on campus; Autuum, 19, who plans to transfer to Fresno State in spring 2019; and their soon-to-be Bulldog Esabel, 9.