Dr. Scott Williamson, also known as "Doc" to generations of Fresno State animal science students, is best known for his impactful guidance in the classroom and campus swine barns. To others across the nation, he's recognized for his heartfelt ties to the American Rabbit Breeders Association (ARBA) and the rabbit industry.
In October, Williamson celebrated the 50th anniversary of the first ARBA convention that he attended in 1970. The event, held in in Reno, Nevada, was even more special because it was dedicated in his honor.
Williamson has had a profound presence on the rabbit breeding industry and has judged in 38 states and countless ARBA conventions and national shows. He is also respected for his four ARBA convention Best of Breed honors; served as a member of the ARBA Standards Committee; and has held executive board positions for the American Dutch Rabbit Club, Holland Lop Rabbit Specialty Club, American English Spot Rabbit Club and the California State Rabbit & Cavy Breeders Association.
Yet, his greatest accomplishment is the thousands of students, industry leaders, judges, breeders and exhibitors that he has positively affected and mentored.
Raised in La Porte, Indiana, Doc was the third of four children and the only son. His father, Wilbur, kindled his enthusiasm for rabbits when he brought home "Pinky," a New Zealand buck, which is a male rabbit. Doc's passion grew when he purchased his own Dutch rabbit for $1.50 at the La Porte County Fair. This county fair purchase would kick-start many decades of masterful breeding.
In 1969, Doc received his first Reserve in Show award at his first ARBA sanctioned show in South Bend, Indiana. At age 15, this remarkable achievement was the first of many prestigious honors to come.
Doc was fortunate to have many mentors in the rabbit fancy. He and his father bonded while traveling across the nation from show to show. When Doc left home to pursue his undergraduate degree at Purdue University, Wilbur Williamson resumed daily care of Doc's rabbits.
At Purdue, Dock was a member of the 1975 livestock judging team, which helped him become uniquely qualified to earn his ARBA Judge's License in 1977. After earning his Bachelor of Science degree, Doc moved to the University of Illinois where he earned his master's degree in ruminant nutrition and his doctorate in meat science. Rabbits always remained in his life through college as he produced and exhibited show rabbits as a graduate student.
In 1983, Williamson applied for an instructional position at Fresno State. During the interview, he met Dr. John A. Jacobs, the meat science professor, who raised Flemish Giant rabbits. Doc was offered the position and moved to the West Coast. Of course, his rabbits came along. And so his life in California began.
Doc soon started a family and his four children — Kate, Kelli, Beau and Hannah — have also bonded over showing rabbits and hogs much like Doc and his father did. In the past 35 years, Doc and his children have won over 300 Best in Show honors. One year, Doc's Dutch won 54 Best in Show awards.
On campus, Doc has taught classes and managed the Fresno State swine unit for over 35 years, and his hands-on and real-world approach has always been sought after by students. Whether it is in swine production, genetics, animal nutrition, livestock evaluation, or environmental management courses, he has found every opportunity to find dynamic and captivating experiences where his students can learn the best livestock management practices.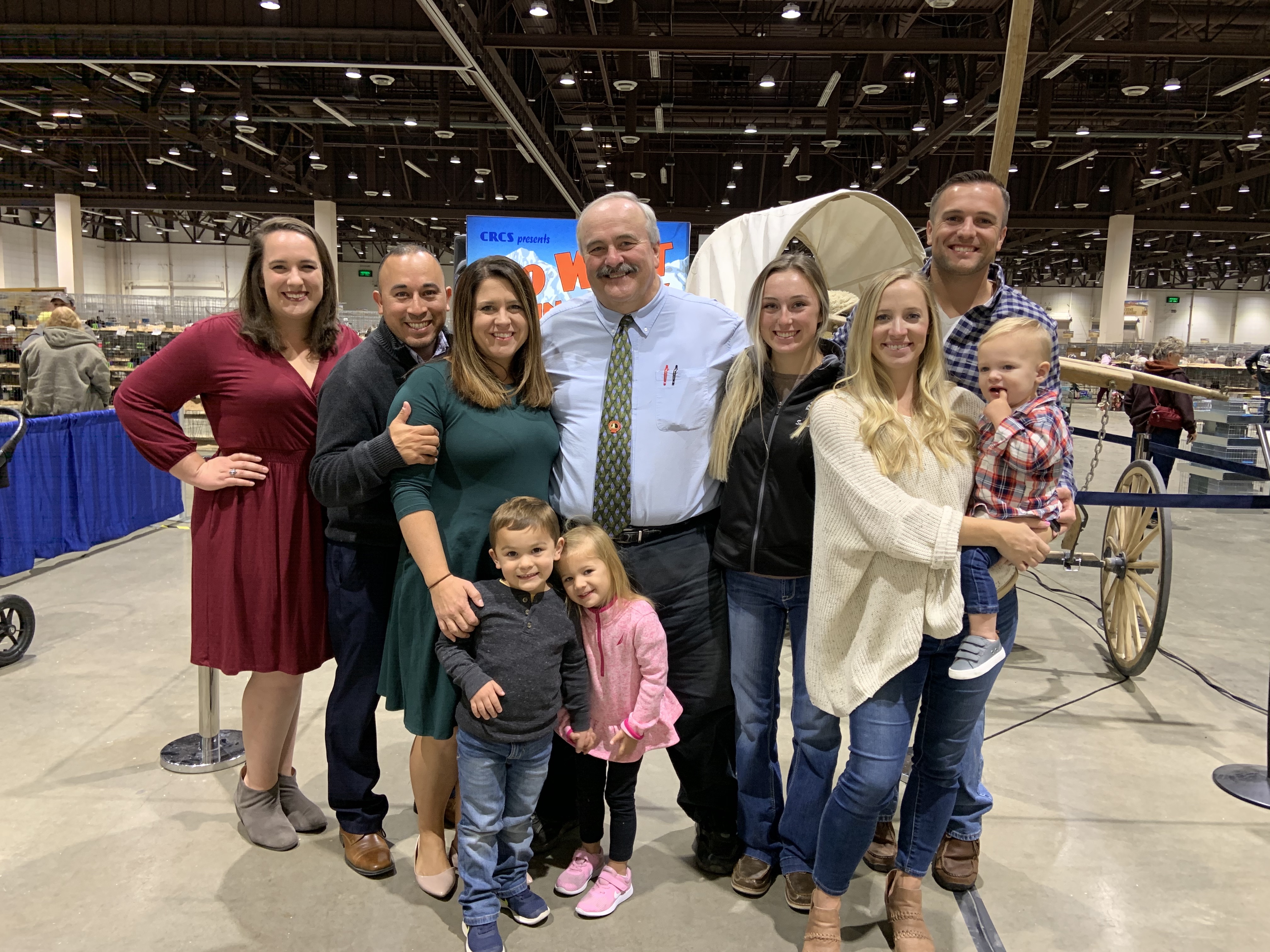 Dr. Scott Williamson and his family.
(Editor's note: Campus News accepts nominations for faculty and staff profiles. These stories allow the campus community to learn about the many colleagues who contribute to the success of Fresno State. If you know someone with an interesting story — a passion for helping the community or a cause, a remarkable life journey, or there is just something fascinating about them to share — please email campusnews@csufresno.edu.)