Domenick Satterberg, who joined the Fresno State staff in July 2015, combined his passion for football and filmmaking for some exciting moments in sports. This past weekend in Atlanta, he worked his ninth Super Bowl as part of the NFL Films crew.
A senior videographer for University Brand Strategy and Marketing, Domenick has spent fall and winter weekends shooting over 200 NFL games from the sidelines since 2007. He has a Bachelor of Fine Arts degree in film with an emphasis on cinematography from Art Center College of Design in Pasadena.
Satterberg said he was inspired by famous NFL plays that were captured by NFL Films cinematographers on 16mm film, including "The Immaculate Reception," "The Catch" and "The Holy Roller." Upon entering Art Center College, he made it his goal to one day shoot for NFL Films.
"As a kid, you don't realize that some of the most memorable football plays throughout the NFL's history were captured by really talented documentary cinematographers," he said.
As he was honing his craft in college, Satterberg didn't know how he was going to reach his goal until he found out about an NFL Films internship.
"Immediately following my graduation in 2006, I was accepted into the camera department as one of two interns for the 2006 NFL season," he said. "I can honestly say that I would not be where I am today without that opportunity."
Here at Fresno State, Satterberg is proud of his contributions to the current brand campaign.
"Helping the team launch the campaign storytelling website stories.fresnostate.edu was a great achievement for all of us," he said.
"The best part about my job is telling the amazing stories of our talented students, alumni and faculty."
Satterberg married his childhood neighbor, Fresno State alumna Lisa Fazio-Satterberg, in 2011. He says that whatever his professional accomplishments are, raising his three daughters with his wife is really the ultimate accomplishment. His home is complete with three girls Reagan (age 4), Madelynn (age 2), Brielle (3 months) and their two rescue dogs, Vincent and Bella.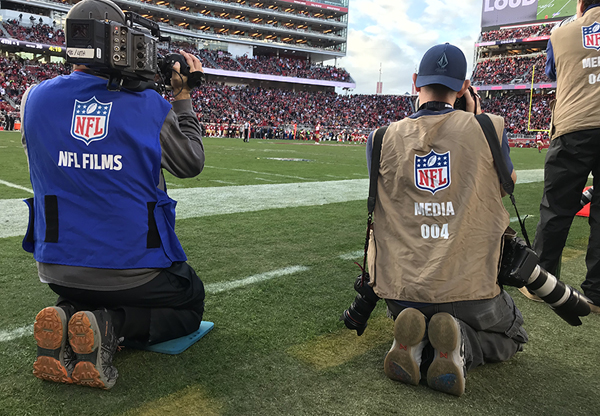 (Satterberg, left, filming alongside Fresno State photographer Cary Edmondson.)