Podcasts are exploding worldwide and Fresno State is getting its foot in the door with three programs on its SoundCloud account.
The podcast industry estimates that more than 800,000 podcasts, or audio programs, exist with more than 30 million episodes.
Podcasts entertain, educate and inspire.
In higher education, more and more institutions are using podcasts to share their research and expertise with a broader audience.
Fresno State is hopping aboard the growing trend with its own account on SoundCloud, an audio streaming service, where three programs are hosted.
Read on to find out more about each program.
The World is our Classroom
The World is our Classroom podcast features faculty members from the College of Social Sciences who share their expertise in research and engage in conversation about their projects and work with students.
Hosted by Dean Michelle DenBeste, the podcast also seeks to explore the many ways social sciences and Fresno State research impacts the communities around us. It also showcases some of the amazing work students and scholars are doing at Fresno State and in the community through storytelling.
The podcast launched in November 2019 and is recorded in the Henry Madden Library's Music Lab located on the third floor. The program is produced and edited by Lucero Benitez, communications specialist in the College of Social Sciences. She and DenBeste choose topics in which professors and students are making a difference in the community.
The first episode features the story of several Fresno State oral history projects. Oral history is an imprecise term which can be used to refer to different disciplines including storytelling, ethnography and oral traditions. Scholars from a variety of fields who use oral histories as a way of getting a past that otherwise may be hidden are featured in the episode.
The second episode focuses on housing issues and research surrounding evictions. Two Fresno State professors have partnered with a number of community organizations to try to move the needle on homelessness, evictions and housing instability. Through their work, they met a woman who was wrongfully evicted leading to homelessness. She shared her story during a teach-in at Fresno State in fall 2019. Sociologist and Princeton University professor Matthew Desmond visited campus at that time. Audio from their talks is used for this episode along with guest speaker interviews.
Thoughts Aloud
The Thoughts Aloud podcast features writers contemplating their art and creative process while sharing in conversation, with the hope of helping fellow writers and artists grow. Produced by the Master of Fine Arts program, the podcast hopes to mark and celebrate the presence, progress, and evolution of the university's MFA students by capturing, acknowledging and giving space for them to share their work.
Thoughts Aloud was created by Nou Her, an MFA Creative Writing student, with help from Jefferson Beavers, the English Department's communications specialist. Her was charged with thinking about the MFA program's catch phrase, "We Grow Writers," and then coming up with a way to use multimedia to highlight the work of students. (Her previously produced a series of interviews called "The Growth Chart" for the program's blog.) Thoughts Aloud documents the growth of current students, but it also serves as a way to recruit new students to the program.
The podcast is produced and edited in the "Fresno State MFA podcast garage," which basically means that Her shuts the door to the Creative Writing Program office and stitches together the space into a temporary recording studio. The podcast is made using a mishmash of multimedia equipment, some belonging to the program and some belonging personally to Beavers, who used to be a freelance public radio producer.
Her had very little experience interviewing or using audio equipment. With a little coaching, Her learned to research her subjects deeply ahead of the recordings, and then she uses a minimal approach to interviewing that emphasizes listening and conversation.
All Things Armenian
The All Things Armenian podcast is a one-hour radio program that airs on Multicultural 1600AM hosted by professor Barlow Der Mugrdechian of the Armenian Studies Program.
The show features interviews with local and national figures on Armenian topics. It also includes music from well-known Armenian musicians.
For more information about the Fresno State account on SoundCloud, contact Jessica Piffero, social media specialist in University Communications at jpiffero@csufresno.edu.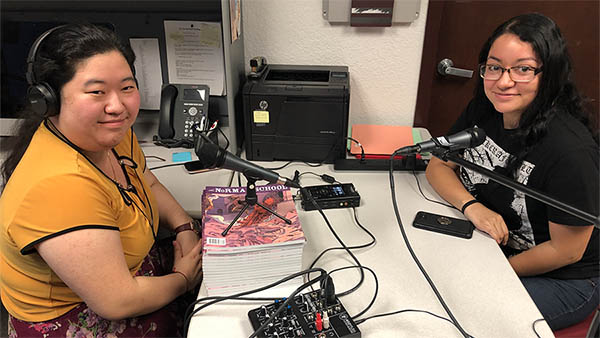 Thoughts Aloud host Nou Her, left, with guest Esmeralda Gamez.