High-need students and students from underserved populations now have the opportunity to build the future by studying the past through the REACHABLE grant.
Fresno State was recently awarded a $1.7 million REACHABLE grant by the U.S. Department of Education. The REACHABLE (Reimagine Educating: American Civics and History Academies for Better Learning and Engagement) grant seeks to engage Fresno State scholars with local teachers and students around a shared interest in history and civics. Teachers and students will spend a week on the Fresno State campus in June and will then attend a three-day study trip to Yosemite National Park.


"I am thrilled that the U.S. Department of Education chose to fund Fresno State's project and I am excited about the opportunity to connect with local teachers and their students around a shared interest in history and civics," said Dr. Michelle DenBeste, dean of the College of Social Sciences.

The grant aims to offer opportunities to teachers and students in the greater Fresno area who are excited about learning more about history and civics, but who may not have had opportunities to explore these themes in greater depth.  
Sometimes a nation can be so caught up in the present that it never learns lessons from the past. The REACHABLE grant fosters a better understanding of the importance of civic participation in a democratic society, while helping develop the ability to analyze historical movements.
The goals of the grant include increasing student achievement and developing college-ready skills for students through introducing them to the rich resources of national parks, national monuments and historic landmarks in California.  


Spearheaded by Provost Lynnette Zelezny and Dr. DenBeste, Fresno State is offering many resources to assist in this project.  A number of Fresno State scholars will be giving lectures to participants and are involved in planning appropriate activities.  


This year, Dr. Leece Lee-Oliver (Women's Studies and American Indian Studies) and Dr. Luis Fernando Macias (Chicano and Latin American Studies) have been asked to be guest speakers.


"We will be using the library in the summer and students will be staying in Fresno State dorms," said Dr. DenBeste. "This year's topic is Liberty, Immigration, and the American West in the late 19th century, and we will explore themes such as Westward Movement, Native American history, Hispanic populations, Immigration, Tourism, and Depictions for the West culminating in a travel study trip to Yosemite National Park."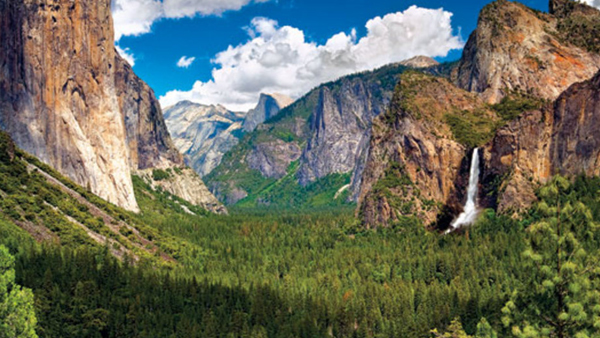 The second year's topic is Liberty, Modern America and the World, in which participants will explore WWI and WWII, Immigration, Migration, and the Cold War.  


"Our travel study in year two will be to the San Francisco Bay Area where we will visit sites such as the Rosie the Riveter WWII National Home Front Museum, Angel Island, Fort Baker and the Presidio," said Dr. DenBeste.


The third year will focus on Liberty and Justice for All.


"We will look at topics such as the Civil Rights Movement, Women's Movements, and Global Americans," said Dr. DenBeste. "The travel study that year will be to Southern California, where we will visit Manzanar National Historic Site and Death Valley National Park."


The fourth and fifth year may repeat prior topics or may explore new topics of interest.


The first grant meeting with participants was on Jan. 24. 


"I'm excited that we are reaching teachers and students from a cross section of Fresno County schools," said Dr. DenBeste. "We have teachers from Washington Union, Hoover, Bullard, Central High, Firebaugh, McLane, Clovis East, Sunnyside, Duncan, and Patino School of Entrepreneurship, among others."   


Provost Zelezny and Dr. DenBeste are serving as co-pilots in planning the program with their planning team: Dr. Bryant (Political Science), Dr. Cady (History), Robin Sischo (History) and Jose Garza (History).  


"Both Robin and Jose are lecturers at Fresno State but they are also teachers," said Dr. DenBeste. "Jose teaches government at Sunnyside High School and Robin teaches history at Bullard Talent. In addition, Dr. Melissa Jordine (History) is serving as our assessment coordinator. Dr. Lori Clune was instrumental in thinking through 20th century U.S themes."


Fresno State is also partnering with the Fresno Historical Society and the California History Social Sciences project to provide content.


"A democratic nation relies on civically engaged citizens," said Dr. DenBeste. "Ideally, those citizens are well informed about the issues in their local region and in the world.  Informed citizens are better able to vote, to participate in local politics, to serve on community non-profit boards and to engage with their communities."
The REACHABLE grant seeks to demonstrate that history matters.


"The old trope says that those who do not understand history are doomed to repeat it," said Dr. DenBeste. "While that is not an entirely helpful saying, it is very true that those who do not know or understand the historical forces operating in the world around us often make faulty assumption about that world. Grappling with our own history helps us to understand how we became the people we are today."