Dr. Saúl Jiménez-Sandoval rides a Razor scooter across campus to get from meeting to meeting quickly.
The scooter shaves minutes off his typical walk — and it's fun, he said with a laugh in his office where the scooter lays on the floor across the room from a piano.
Jiménez-Sandoval started playing the piano four years ago. It's a way to concentrate and collect his thoughts, the veteran academic administrator said. Over the last 19 years, Jiménez-Sandoval has had a variety of roles on campus from professor to department chair and dean of the College of Arts and Humanities.
This summer, he started his first year as provost and vice president for Academic Affairs. With his appointment, more than half of the leaders in President Joseph I. Castro's cabinet are either San Joaquin Valley natives or have extensive Valley ties. Jiménez-Sandoval moved to Fowler from Mexico as a child and was an honors student at Fowler High School.
Campus News sat down with Jiménez-Sandoval to learn more about his role on campus and his life outside of Fresno State. Watch the video below for more.
Why did you make this change from dean of the College of Arts and Humanities to provost? What do you hope to contribute to the University as its chief academic officer?
As chief academic officer of Fresno State, I hope to promote a holistic approach to producing knowledge across the University; one that fully prepares our multicultural and gifted students to have fulfilling careers after they graduate.
In the College of Arts and Humanities, you were known for bringing different departments together as one. How do you plan to work with and unite the many different academic areas and programs on campus?
More and more, our students are coming to us with an understanding of the world that goes beyond categories and silos. I believe all members of our University community come together in the spirit of learning and contributing to our society. I want to promote the idea that our disciplines are all interwoven in a beautiful tapestry of knowledge.
How many languages do you speak? What are the benefits of being bilingual?
Other than English, I speak Spanish as a native, and this was also one of the fields I studied for my doctorate. I also speak Portuguese because I lived in Lisbon, and speak French because I studied it and conducted research in Paris. Based on these languages, I'm able to understand Italian and Catalan. Due to my wife's (Dr. Mariana Anagnostopoulos, a professor in the Department of Philosophy) background and her teaching our children her native language, I have a working understanding of conversational modern Greek.
There is a special feel to each language. Each one brings on a unique attitude, perspective and personality trait in me. I'm able to make connections on meaning and better understand the world and its people through the languages I speak.
What was life like growing up on a Fowler farm? What did you grow?
My dad grew tomatoes. Though the transition was rough at first due to culture shock, I soon made strong friendships — many of which I still retain. The town was small, and this had a lot of advantages: I would bike all over town with my brother, and go to the store for any ingredient my mom needed for dinner.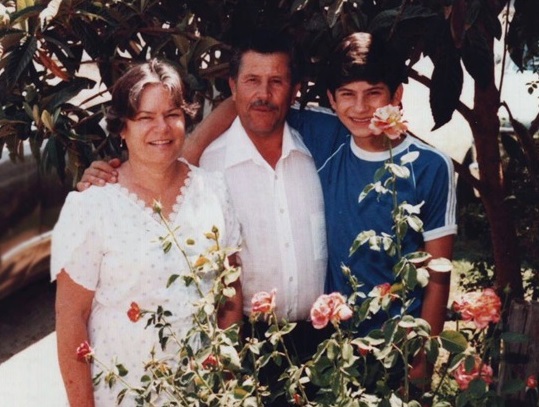 (A young Dr. Saúl Jiménez-Sandoval with his parents Tila Sandoval and Alfonso Jiménez. Photo provided by Dr. Saúl Jiménez-Sandoval.)
What is one thing you love most about the San Joaquin Valley?
I love its diversity and our community's ability to embrace cultures from all over the world. I'm fascinated by the fact that we have amazing food from all over the world. On any given day, I can drive 10 minutes or less and be at a place where they make food that speaks of centuries of tradition and flavor.
We hear that you are a great cook and baker. What is your favorite thing to cook or bake, and why?
All the foods I make have a special meaning to me. Either I make them because I have a special memory attached to them, or because someone meaningful made the dish for me, and in turn, I want to share it with my family. Here are some dishes that I truly enjoy cooking:
Tortilla española (Spanish omelet with egg and potatoes)
Avgolémono (egg lemon soup, which I learned to make from my mother-in-law, and is one of my kids' favorite soups)
Caldo Tlalpeño (a flavorful chicken soup from Jalisco with chickpeas and herbs, topped off with fresh avocado and a hint of chipotle)
Crème brûlée and flan
Crêpes with crema catalana and fresh strawberries
And in honor of the United States, I have my own apple pie recipe, which took me over three years to perfect.
What do you enjoy doing when you're not working?
I love to run because running helps me think clearly and puts things into focus. I also like to read a good book, garden, or get things done around the house. I'm handy and can fix things. I last fixed our washing machine, and years ago installed dual-pane windows throughout our house, which included all the moldings.
Some campus community members have seen you use a Razor scooter to get around campus. Any tips for other scooter users?
Yes! Watch out for the cracks in the cement or pavement. To go over them without falling, you have to slightly go up with the scooter, in order to go over the crack and not hit it head on. Also, the curves can be tricky and you have to use your common sense and slow down on them. Lastly, watch out for pedestrians; many are on their phone, and do not expect a scooter — so, keep your distance.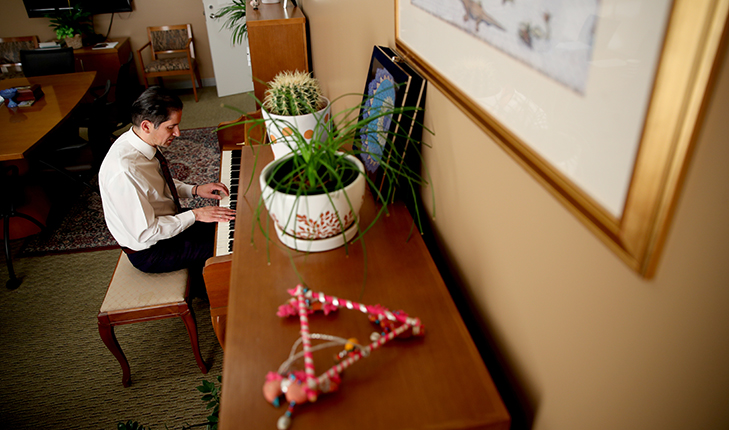 (New Provost Saúl Jiménez-Sandoval started playing the piano four years ago. He plays in this office to collect this thoughts. Photo by University photographer Cary Edmondson.)
Your background is in the arts and humanities. What is your favorite poem or literary work and why?
The writings and poetry of Sor Juana Inés de la Cruz are special to me, especially her "Respuesta" and "Primero sueño." I also very much appreciate art, and have a special interest in painting. I'm fascinated by the paintings of Remedios Varo, a Spanish Civil War expatriate who made Mexico City her home.
What did you do this summer?
My family and I took a great trip over the summer. We were in the Azores, exploring those wonderful islands with an amazing group of people. From there, we flew to Poland, where we saw Warsaw and Krakow and learned firsthand about the painful lessons of World War II. From Poland, we flew to Armenia, stayed in Yerevan, and visited some of the most beautiful hilltop and hidden churches ever; they were full of spirituality, and it was there that I gained insight on the resilience of Armenia, and its love for knowledge.
You're a great world traveler. How many countries have you visited? Where is your favorite place to visit?
I have visited over 15 countries and have special memories from each one of them. From the list, I would say that the most relaxing one was the Cook Islands.
What is one hidden gem at Fresno State?
The senior shows that Phebe Conley has at the end of the year, and the senior recitals in the music department. Each one of these events represents countless hours of practice and work on a piece of art that has meaning beyond the ordinary. The events also showcase our students' brilliant understanding of our society, and their interpretation of major human themes and emotions.
When people ask about Fresno State, what do you tell them?
I tell them that Fresno State has some of the most talented students; they're resilient, world-class citizens who are grateful and full of potential; they tap into their unique set of experiences that — once appreciated — make them into culturally gifted and socially invested individuals.